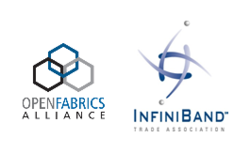 BEAVERTON, Ore. and Austin, TX (PRWEB) November 07, 2012
The InfiniBand® Trade Association (IBTA), a global organization dedicated to maintaining and furthering the InfiniBand™ specification, and the Open Fabrics Alliance (OFA), an open source community focused on developing the OpenFabrics Software for high-performance networking applications, today announced that member company representatives will discuss drivers for future I/O architectures at a panel session at SC12, taking place November 10-16 at the UT Salt Palace Convention Center in Salt Lake City, Utah.
I/O is a significant factor in enabling the performance and scalability for high performance computing (HPC) and Big Data analysis. The panel session, titled "Exascale and Big Data I/O" and moderated by Bill Boas, vice president of business development, System fabric Works, will discuss the Tier1 OEM and End Customer/User requirements for future I/O architectures, standards and protocols, and whether they should be open or proprietary. Panelists will include top industry technologists such as Larry Kaplan, I/O architect at Cray, Sorin Faibish, chief scientist, Fast Data Group at EMC, Ronald Luijten, data motion architect at IBM Zurich Research, Michael Kagan, co-founder and chief technology officer at Mellanox Technologies, Manoj Wadekar, chief scientist QLogic, and Peter Braam, storage software fellow at Xyratex. The panel session will take place on Wednesday, November 14 at 1:30 p.m. at the UT Salt Palace Convention Center, Room 355-BC. For more information on the panel session, please visit http://sc12.supercomputing.org/schedule/event_detail.php?evid=pan108
Visit IBTA and OFA at SC12 booth #3630 for more information and to partake in conversation with experts from member companies including Finisar, IBM, Mellanox Technologies, Software Forge, System Fabric Works and VMware will be available to answer questions on topics currently of interest to the HPC community.
About the InfiniBand® Trade Association
The InfiniBand® Trade Association was founded in 1999 and is chartered with maintaining and furthering the InfiniBand specification. The IBTA is led by a distinguished steering committee that includes HP, IBM, Intel, Mellanox Technologies, Oracle, QLogic and System Fabric Works. Other members of the IBTA represent leading enterprise IT vendors who are actively contributing to the advancement of the InfiniBand specification. The IBTA markets and promotes InfiniBand from an industry perspective through online, marketing and public relations engagements, and unites the industry through IBTA-sponsored technical events and resources. For more information on the IBTA, visit http://www.infinibandta.org.
About the OpenFabrics Alliance
The OpenFabrics Alliance (OFA) is a 501(c)(6) non-profit association that develops, tests, licenses and distributes the OpenFabrics Enterprise Distribution (OFED) – multi-platform, open-source software for high-performance, low-latency and energy-efficient computing. OFED is used in business, research and scientific environments that require fast and efficient networks, storage connectivity and parallel computing. OFED is free and is included in major Linux distributions, as well as Microsoft Windows. In addition to distributing OFED, the OFA conducts interoperability testing to ensure all releases meet multi-vendor enterprise requirements for security, usability and reliability. For more information about the OFA, visit http://www.openfabrics.org.
###
InfiniBand (TM/SM) is a trademark and service mark of the InfiniBand Trade Association. Other names and brands are the property of their respective owners.