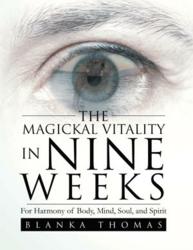 LJUBLJANA, Slovenia (PRWEB) November 07, 2012
From author Blanka Thomas, a woman who forever lost 51 kilograms of excess body weight, The Magickal Vitality in Nine Weeks is a book is created on the basis of strong personal experiences. It is a bridge to a new reality of how people can—in the most natural and fun way—diminish excess weight or "hitchhikers" or "stopped energies."
"Like most of us, I was also raised that I need to please and listen to others, so I tried the first 20 years of my life to please everyone… I fell into the dream spell or vicious circle of illusions and failures," says Thomas. "I forgot the magnificent power that I was given at birth. I silenced my inner voice and intuition, cut the link or lost connection with my higher self, and "forgot" who I really was…The result was 112 kilograms or 250 pounds of body weight."
Thomas' book is addressed to three groups of people: those who are tired of different ineffective weight loss programs, as well as those willing to gain weight; those who live stressful lives and yearn for a renewed harmony of body, mind, soul, and spirit; and finally, those who wish to realize their potential in the here and now and to live their dreams in the reality. Gender, age, status, position, religion, and other things on this rainbow magical journey are not important and have no meaning. This book is also published in Slovenian language.
Through the nine magic weeks of journey, readers are taught knowledge and tools such as the power of words, visualization and decision, regular journaling, rainbow thoughts, magic keys, ancient knowledge, animal totems, sacred plants and fruits, energy vortex, colors and crystals. All these essential elements make The Magickal Vitality in Nine Weeks a book that will significantly transform readers' lives.
For more information on this book, interested parties may log on to http://www.XlibrisPublishing.co.uk.
About the Author
Blanka Thomas is well known in Slovenia, Europe, as Maginja (Magician) Blinkita. In 2004, she found the ancient Mayan T'Zolkin Divine Matrix 20:13. After a few years of researching, she published her first book The Mayan T'Zolkin 2012, followed by The Magickal Vitality in Nine Weeks in Slovenian language. She is the founder of the Academy of Life in Slovenia. She is the practitioner of Mayan abdominal massage and Spiritual Healing, of classical massage and body work, of Munay Ki and the shamanic way of healing. For the last eight years she teaches, and gives workshops, lectures, courses, and consultations about the New Reality 2013 and ancient Mayan and Inca knowledge all over her homeland. Her passion and hobbies are writing, researching and teaching about ancient and future knowledge and about the new reality 2013.
The Magickal Vitality in Nine Weeks * by Blanka Thomas
For Harmony of Body, Mind, Soul, and Spirit
Publication Date: September 18, 2012
Picture Book; £35.99; 254 pages; 978-1-4771-0975-5
Picture Book Hardcover; £45.99; 254 pages; 978-1-4771-0976-2
Picture Book; £4.99; 254 pages; 978-1-4771-0977-9
To request a complimentary paperback review copy, contact the publisher at +0800-644-6988. To purchase copies of the book for resale, please fax Xlibris at 44-203-006-8880 or call +0800-644-6988.
Xlibris books can be purchased at Xlibris bookstore. For more information, contact Xlibris at +0800-644-6988 or on the web at http://www.XlibrisPublishing.co.uk.