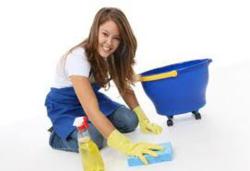 This is a service that should take much of the worry and complication out of moving for anyone who is interested.
Edmonton, AB (PRWEB) November 08, 2012
There are few people who enjoy the moving process. Perhaps the end result is looked forward to by some, but the actual grind of packing, organizing, planning and cleaning can be difficult at the best of times, and if the space that's being left behind has not been properly cleaned in a while, the situation can get out of hand quickly.
Too often, an apartment or a home that has only been rented is not cleaned thoroughly, so when it comes time to go there is a major backlog of jobs to do, whether it is steam-cleaning the carpets, getting at hard-to-reach areas, cleaning the stove, fridge or bathtub or simply all glass surfaces and doors are wiped down.
The same problem can often present itself when moving into a new place. Although a landlord might do their best to prepare the new digs, that's not always good enough and some people's standards are higher than others.
It can be very difficult to unpack and organize a household when the space isn't thoroughly cleaned, and having to do this without professional help can be simultaneously frustrating and defeating after a long move has just been accomplished. In some ways, to unpack inside of a dirty home or apartment is both functionally impractical and emotionally trying for anyone that values cleanliness and likes to keep a tidy house.
These challenges are very common in the world of moving, and although they can be solved with a little added effort on the part of the individual moving, it is not a time when producing such an effort is particularly easy. That's why Mango Maids, a prominent cleaning company that serves both Calgary and Edmonton, is launching a move-in or move-out service specifically to ease this facet of the moving experience, and to make transitions between homes both simple and effortless.
This is a cleaning service that has already established its reputation across Alberta as being one of the most affordable, efficient and client-oriented businesses of its type, and this new offering is likely borne out of their unerring focus on customer satisfaction. This Edmonton maid service has consistently received positive notices on a number of independent review sites, lauding their efforts thus far, and the new moving package is likely to elicit even more happy commentary.
The cleaning checklist that accompanies this program, visible on the maid services Edmonton website, is extremely comprehensive, and can be bolstered or augmented as needed, if additional cleaning tasks are required. This is a service that should take much of the worry and complication out of moving for anyone who is interested.