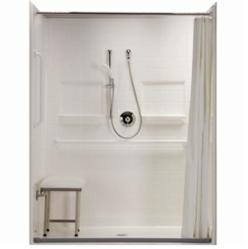 The addition of the Best-Bath walk in bathtubs and roll in showers will provide our customers with even more options for high quality bathroom safety products.
Denver, CO (PRWEB) November 07, 2012
Aging Safely Walk In Bathtubs, a national provider of handicap accessible tubs and showers, is pleased to announce it is broadening its walk in shower selection by offering Best-Bath roll in showers, transfer tubs and grab bars. The added product line permits Aging Safely to provide consumers who need safe bathing with more choices. While many customers love the convenience of hydrotherapy tubs, low threshold roll in showers are ideal for customers who do not enjoy baths or want a bathroom with a walk in shower and a tub.
Aging Safely recognizes that shower size is a significant concern to customers. They need a shower that is roomy enough to accommodate a seat and has other amenities that promote safe bathing. Aging Safely is excited to offer additional models that meet customers' individual needs and space requirements. Whether customers desire a compact step in shower or a large shower that is roomy, Aging Safely offers a suitable walk in shower or walk in bathtub. The 6030 maximizes comfort with a stylish, spacious shower stall. The 4834 is functional, attractive and compact while offering all the amenities of a larger walk in shower.
Zach Wennstedt, Aging Safely's CEO, said, "The size and configuration of a shower not only impacts the space in the shower; it also affects the visual appearance of the entire bathroom. Aging Safely offers walk in bathtubs and roll in showers that promote safe bathing, and the new showers enhance space, convenience and safety. The company is thrilled to offer a selection of low threshold showers, transfer tubs and grab bars that are streamlined to complement any bathroom."
The showers and walk in bathtubs are available in white, bone or custom colors and feature a hand held shower nozzle, safety grab bars, non-slip floors and a folding, padded seat to maximize comfort. The shower packages include a curtain rod, rings, brackets and a durable vinyl shower curtain that keeps water off the bathroom floor. The smaller shower features a center drain, and the larger shower offers customers their choice of a right or left-hand side drain.
The beautiful polyester gelcoat fiberglass finish is attractive and easy to maintain. Customers who are not seeking a hydrotherapy bathtub to potentially reduce inflammation, or a walk in bathtub, and who want the convenience of cleaning their bodies without filling a walk in tub, will appreciate the option of purchasing a roll in shower.
Aging Safely is a company committed to providing customers with the most affordable walk in bathtubs and handicap showers to meet their personal situations. They offer several handicap showers and walk in tub product lines, so customers can feel confident that Aging Safely can provide them with the selection they need. Customers can order any of Aging Safely's products nationally, including the new walk in showers, for installation or delivery only.
Contact Information:
Zach Wennstedt
1-888-779-BATH(2284)
info(at)agingsafelybaths(dot)com