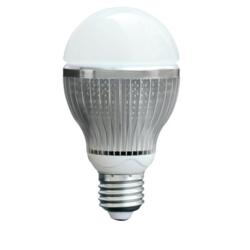 (PRWEB) November 18, 2012
As the demand of LED bulb is growing day by day, Zhongtian Lighting released its hot sell product [ZT-G65E27-35103F] led bulb to meet customers' needs. The LED bulbs in the ignition are instantaneous, while the most common fluorescent bulbs will take some time to become fully operational.
LED bulb lights do not contain a filament like incandescent bulbs do, which means they are more solid and can withstand regular bumping and handling. When weighing the energy savings, life-span, and durability of LED lights to traditional lights, the continued cost-saving benefits outweigh the initial cost difference. For a given light output, LED bulb consumes energy six to eight times less than that of a conventional lamp filament.
Lower energy consumption leads to greater benefits than just cost-efficiency. LED bulbs do not produce heat. Their energy consumption is light-emitting, not heat-emitting. This means LED lights remain cool to be touched, making them safer, more child-friendly and fire-resistant option to light up users' houses. LED bulbs provide brighter light with lower bulb temperatures, providing both a glorious site and a safer environment. The led bulb complies with RoHS standards and UL standards, making LED light both safe and eco-friendly decorating option at any time.
It operates at low voltage with limited power. Therefore, it is safe to use in wet environments and bathrooms. If adding its mechanical robustness to shocks, crushing and vibration, users will see that it is suitable for automotive, outdoor sports and all kinds of gadgets. The light spectrum is very important for the quality of lighting. The [ZT-G65E27-35103F] led bulb has been bettered the color rendering. White LED bulbs that you can choose of white or warm-white are already very enjoyable. They respond smoothly quality standards for schools and offices that require a color rendering index (CRI) greater than 80.
Zhongtian Lighting will also present an alternative to fluorescent lighting high luminous efficiency and energy efficient. T8 LED tubes reach full brightness immediately and offer an even light with a wide opening angle, without forgetting its longer operating life and reliability. For more information, please visit http://www.ztlights.com.