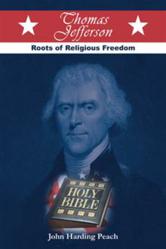 With the foundations of America being challenged and threatened all around us, this book is needed to help turn the tide back to its constitutional principles
KNOXVILLE, Tenn. (PRWEB) November 07, 2012
In his biographical novel "Thomas Jefferson: Roots of Religious Freedom" (published by CrossBooks), author John Harding Peach portrays the heart and soul of one of America's Founding Fathers.
In the book, Peach describes Thomas Jefferson as a trailblazer for religious freedom who took initial ideas influenced by his early teacher, Rev. James Maury, and accompanied them with teachings from the Bible. While many people believe Jefferson to be a deist, Peach depicts him as a Christian who believed in the Bible and in a God who answers prayer and involves Himself directly in the affairs of man.
"With the foundations of America being challenged and threatened all around us, this book is needed to help turn the tide back to its constitutional principles," says Peach. "The religious liberty that Jefferson and his cohorts sacrificed their lives and their reputations to uphold is now being threatened by the highest levels of leadership in America," he adds.
Peach follows Jefferson through each milestone in his life, beginning in Virginia, to Philadelphia and Washington D.C., then France and finally across the U.S. to the Pacific Ocean. While agreeing that Jefferson's religious ideas were divergent from any mainstream denominations, Peach presents evidence that Jefferson remained a stalwart for the Biblical premise that people's rights come from God, who created all humans equal.
"Thomas Jefferson: Roots of Religious Freedom"
By John Harding Peach
ISBN: 978‐1‐4627‐2054‐5
Available at Amazon, Barnes & Noble and AuthorHouse.
About the author
John Harding Peach is a graduate of Moody Bible Institute and has a Master of Arts from Liberty University. He served as a pastor in churches across the country from California, to Virginia, and New Jersey. Currently in Knoxville, Tenn. for the last 20 years, Peach spent 16 of those years as an at‐risk counselor for children in public schools. He continues his passion for genealogy, history and writing, adding to his 10 other previously published books.
CrossBooks, a division of LifeWay Christian Resources of the Southern Baptist Convention, is a Christian publishing imprint committed to bringing more Christian voices into the publishing industry. Established authors, first-time authors, and authors anywhere in between can meet their goals and fulfill their vision for their books by publishing with CrossBooks. CrossBooks' innovative style of publishing blends the best of traditional and self-publishing. While our authors contribute monetarily to cover the cost of publishing, we maintain a strict moral and quality standard that every manuscript must meet for us to publish. For more information on publishing your Christian book with CrossBooks, log on to crossbooks.com or call 1-866-879-0502.