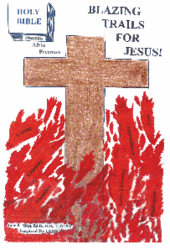 The author includes scripture to illustrate (Alvin) Freeman's devotion to following the path of Jesus Christ.
DAYTON, Ohio –
(PRWEB) November 07, 2012 -- This inspirational new biography reveals the ministry of Alvin Freeman – a true servant of God – and his work bringing God's word to people in prisons, hospitals, nursing homes and projects, as well as teaching a Sunday school class for teenagers. Freeman's dedication, especially to Walking for Jesus Ministry and Concerned Christian Men, proves inspiring to anyone who hears his story. The author includes scripture to illustrate Freeman's devotion to following the path of Jesus Christ.
In "Blazing Trails for Jesus," the author details Freeman's work, such as founding Concerned Christian Men, inspired by a conference Freeman attended in Houston with more than 900 men from churches throughout the country. This energetic organization, supported by scripture, motivates its members to serve God; after volunteering in the group, about 15 members have been called to become preachers and pastors. In addition, CCM works with youth in sports programs, serving as a positive example of conduct, especially to children who don't have a father figure in their daily life. Walking for Jesus Ministry also ministers to the body and mind, offering different levels of exercise, prayer and conversation.
Freeman's ministry sharing the word of God doesn't end with those two organizations. In serving as God's servant on earth – and deacon of Corinthian Baptist Church in Dayton – he also works with single mothers, prisoners and nursing home residents. Beyond inspiring others to follow Christ's teachings, Freeman also has renewed God's presence in the lives of the author and her husband, both members of Corinthian Baptist.
Author June Moss, a graduate of the U.S. Army War College in Carlisle, Pa., earned her bachelor's degree from the University of Dayton. Moss received a doctorate and a master's degree from the University of Cincinnati. She completed a dietetic internship at Miami Valley Hospital in Dayton, and served on many boards and committees during her career. She and her husband, Morris, have one daughter and one son.
----------
Blazing Trails for Jesus!
June Moss
Dog Ear Publishing
ISBN: 978-1-4575-0705-2 164 pages $29.98 US
Available at Ingram, Amazon.com, Barnes & Noble and fine bookstores everywhere.
About Dog Ear Publishing, LLC
Dog Ear Publishing offers completely customized self-publishing services for independent authors. We provide cost-effective, fast, and highly profitable services to publish and distribute independently published books. Our book publishing and distribution services reach worldwide. Dog Ear authors retain all rights and complete creative control throughout the entire self-publishing process. Self-publishing services are available globally at http://www.dogearpublishing.net
and from our offices in Indianapolis.
Dog Ear Publishing – self-publishing that actually makes sense.