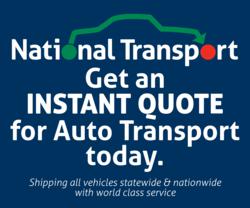 Cocoa Beach, FL (PRWEB) November 08, 2012
National Transport is adding even more auto shipping in Atlanta as it continues to provide residents and out-of-town guests with more ways to get their cars to and from the big city.
It's no secret that Atlanta, Georgia is one of the most frequented places in the continental United States. With a bevy of things to do, from visiting the World of Coca-Cola to testing the waters at the Georgia Aquarium, Atlanta is one of the top places that people relocate to for jobs as well as visit for extended vacations. Therefore, providing reliable auto shipping to Atlanta only makes sense.
Auto Shipping and Atlanta
Whether customers are shipping their car from Indianapolis to Atlanta for a job relocation or for a long-overdue vacation, National Transport will make sure that it gets there safely, on-time and at a price that is affordable. Too often auto shipping companies make promises to their customers that they cannot keep. With National Transport, the only fine print that customers will see is their signature on the shipping contract.
As more and more people relocate to this culturally diverse, action-packed city, one thing that they won't have to worry about is how their cars are going to get there. That's the beauty of auto shipping.
For more information about auto shipping in Atlanta, or to ask general questions about the auto shipping process, contact National Transport today by calling 1.800.665.5022. Also, make sure you stop by their Facebook page!
About National Transport, LLC:
National Transport, LLC is one of the leading auto transport companies in the United States, providing some of the most affordable car shipping rates in the industry. You can also follow National Transport LLC on Twitter.