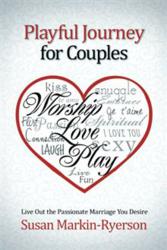 I wrote this book purposely to be lighthearted and easy. Any couple, any age and at any stage can jump right in and begin enjoying the studies, activities and romance this book brings
RIO RANCHO, N.M. (PRWEB) November 08, 2012
Desiring to give couples a meaningful yet playful way to build their life together, author Susan Markin-Ryerson offers readers her new nonfiction book "Playful Journey for Couples: Live Out the Passionate Marriage You Desire" (published by CrossBooks).
"Playful Journey for Couples" takes a lighthearted approach to helping couples enjoy a year of growing, laughing and loving. Through 52 Bible verses, "Playful Journey for Couples" suggests a new combination of studies, activities and romantic dates designed to help couples live out the love of Christ with each other. It's not just a bible study, it offers tools for couples to enhance communication and trust and renew intimacy in a playful way, from cooking challenges to photo contests while having a Bible study.
"Couples are faced with many pressures today," Markin-Ryerson says. "Children, careers, families, and finances put a tremendous amount of stress on their marriage. They are busier now than ever before and many couples struggle to find the time to connect. 'Playful Journey for Couples' is a tool that will get couples sharing their opinions on what makes their marriage work, what speaks to the other's heart, and what will make their marriage last a lifetime. I wrote this book purposely to be lighthearted and easy. Any couple, any age and at any stage can jump right in and begin enjoying the studies, activities and romance this book brings."
Markin-Ryerson knows that her methods work. As a woman who was once divorced at a young age, but who later found a new relationship that became a 20-year marriage, she has lived the ups and downs of matrimony. The models and ideas found in "Playful Journey for Couples" are built out of the practices she and her husband have used to keep their marriage young and fresh.
About the Author
Susan Markin-Ryerson lives with her husband, Mark, in Rio Rancho, N.M., where she runs her home-based business, Playful Journey LLC. Markin-Ryerson lives, reads and studies the Bible to allow its words to have a direct impact on her personal life and relationships. Learn more about Markin-Ryerson and her book at http://www.playfuljourney.com
CrossBooks, a division of LifeWay Christian Resources of the Southern Baptist Convention, is a Christian publishing imprint committed to bringing more Christian voices into the publishing industry. Established authors, first-time authors, and authors anywhere in between can meet their goals and fulfill their vision for their books by publishing with CrossBooks. CrossBooks' innovative style of publishing blends the best of traditional and self-publishing. While our authors contribute monetarily to cover the cost of publishing, we maintain a strict moral and quality standard that every manuscript must meet for us to publish. For more information on publishing your Christian book with CrossBooks, log on to crossbooks.com or call 1-866-879-0502.