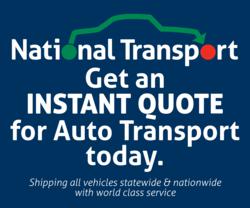 Cocoa Beach, FL (PRWEB) November 08, 2012
Anyone who has ever driven in or around Boston knows how incredibly frustrating it can be to deal with the immense amount of traffic from other motorists and pedestrians. Throw in a bunch of one-way streets, stoplights and the fact that drivers may not be familiar with the area, and it quickly becomes apparent how vehicle shipping might've helped. Enter, National Transport.
Auto Shipping to Boston and Beyond
National Transport provides affordable auto shipping to Boston as well as from Boston. So, now those who are relocating to the Boston area for jobs, to visit family, to sell vehicles, etc. can take full advantage of the auto shipping services available to them. This is good news, particularly to young professionals and those with young families.
Part of the convenience of using an auto shipping company, like National Transport, is the relief that is felt when customers know that they don't have to picture themselves sitting their car for hours on end, navigating roadways, paying for gasoline, having to stop over at hotels or any of the other things that tend to come up when taking a long road trip. Now, all customers have to do is make their travel arrangements and trust that National Transport will get their car where it needs to be, on time and safely.
Boston is a great area to live and work in, but when traveling from out of state (or even from across the country), it's often a good idea to hire an auto shipping company. Not only will it prevent unnecessary wear and tear on a vehicle, but auto shipping companies, like National Transport, offer a variety of shipping options such as enclosed or open auto shipping to Boston.
For more information about car shipping in Boston, or to ask general questions about the auto shipping process, contact National Transport today by calling 1.800.665.5022. Also, make sure you stop by their Facebook page!
About National Transport, LLC:
National Transport, LLC is one of the leading auto transport companies in the United States, providing some of the most affordable car shipping rates in the industry. You can also follow National Transport LLC on Twitter.