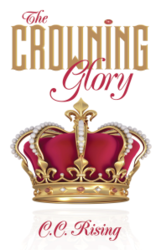 Above all, the book calls for people to use their intelligence.
OCEAN ISLE BEACH, N.C. –
(PRWEB) November 08, 2012 -- The human race's spirit is being slowly destroyed – devolving into uncivilized savagery, thanks to ignorance, negligence and inordinant appetites – claims the author of this intriguing new book. C.C. Rising serves up food for thought, addressing controversial current issues society faces from those who are truly evil to those who are simply thoughtless and selfish.
"The Crowning Glory" offers plenty of food for thought, addressing controversial current issues plaguing society and taking readers on a spiritual journey "into the mind of a conscious juggernaut," Rising writes. The author's signature essays and poems weave together in this commentary on modern life and its foibles. From the poem "The Walking Dead" come these poignant words: "I have been, too long at the bottom, searching for this clarity of thought. Fighting through a sea of mindless zombies, blocking my way to the top. Zombies that I recognize, as having the look of weariness. It is for them mostly, that I get the teariest."
Above all, the book calls for people to use their intelligence – tearing away the veil of ignorance – lest they get sucked into acting like those who operate at society's lowest level. "If the soul is the driving force of the human being, then the intellect is the engine, because without reason, the greatest component of the intellect," people couldn't govern the kingdom God designed for humans to rule, the author writes. Above all, he expresses hope that everyone needs to be socially aware to improve mankind's condition.
Author C.C. Rising, who considers himself a graduate of the school of hard knocks, began writing poetry at an early age. He's studied philosophy, psychology, sociology, science and theology. A portion of proceeds from sales of the book will go to The Women of Destiny, headed by Janice C. Givens.
----------
For additional information, please visit http://www.WriterCCRising.com.
The Crowning Glory
C.C. Rising
Dog Ear Publishing
ISBN: 978-1-4575-1233-9 92 pages $12.00 US
Available at Ingram, Amazon.com, Barnes & Noble and fine bookstores everywhere.
About Dog Ear Publishing, LLC
Dog Ear Publishing offers completely customized self-publishing services for independent authors. We provide cost-effective, fast, and highly profitable services to publish and distribute independently published books. Our book publishing and distribution services reach worldwide. Dog Ear authors retain all rights and complete creative control throughout the entire self-publishing process. Self-publishing services are available globally at http://www.dogearpublishing.net and from our offices in Indianapolis.
Dog Ear Publishing – self-publishing that actually makes sense.