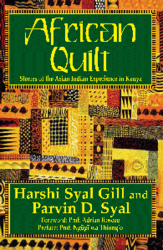 The stories in this new book capture the lives of families caught up in turmoil.
GRANADA HILLS, Calif. –
(PRWEB) November 08, 2012 -- By the time Asian Indians immigrated to East Africa, the major European powers had already carved up the region for colonization. They arrived to work on the railroad at the turn of the century, eventually moving to Kenya to power the railways, civil service and other administrative jobs. The stories in this new book capture the lives of families caught up in turmoil during "an important moment in East Africa – its historic movement toward colonial freedom and its aftermath in which major communities of Africans, Asians and Europeans took part," notes the book's foreword.
"African Quilt: Stories of the Asian Indian Experience in Kenya" pieces together stories that make up the fabric of African history, presented in mostly chronological order to provide a sense of history. Tales include "The Queen of Jam," which features an individual's struggle to survive in the midst of threats posed by a distant war; "The Kite Duels," which offers a light-hearted story about competition and the importance of teamwork; and the poignant "Mr. Patel Buys a Radio." Though the accounts are fiction, the authors deliver clever commentary on major issues like race, color, colonialism, class and caste. The surroundings and the political climate of a changing country affect their characters, who rise to personal triumph and leave their mark on the world around them.
Authors Parvin D. Syal and Harshi Syal Gill have been acclaimed for their poetry, articles, literary reviews and a play, "God Minus – The Life of Buddha." This brother and sister were born in Nairobi, Kenya, to parents who left India in the early 20th century. Syal is a medical doctor renowned for his community work in Kenya and California, where he has practiced for more than three decades. Gill, who lives in California, taught English in Kenya and in England and worked in systems analysis and medical administration in the last 30 years.
----------
For additional information, please visit http://www.africanquiltstories.com.
African Quilt: Stories of the Asian Indian Experience in Kenya
Harshi Syal Gill and Parvin D. Syal
Dog Ear Publishing
ISBN: 978-1-4575-1138-7 228 pages $14.95 US
Available at Ingram, Amazon.com, Barnes & Noble and fine bookstores everywhere.
About Dog Ear Publishing, LLC
Dog Ear Publishing offers completely customized self-publishing services for independent authors. We provide cost-effective, fast, and highly profitable services to publish and distribute independently published books. Our book publishing and distribution services reach worldwide. Dog Ear authors retain all rights and complete creative control throughout the entire self-publishing process. Self-publishing services are available globally at http://www.dogearpublishing.net
and from our offices in Indianapolis.
Dog Ear Publishing – self-publishing that actually makes sense.