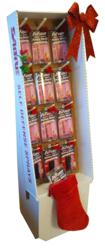 Available in Hot Pink & Jet Black
(PRWEB) November 08, 2012
Just in time for the Holidays is the DEF24 DeFuser Holiday Display. The DEF24 is a beautifully decorated 24 piece floor display that comes complete with individual bowties on each package. DeFuser makes a great stocking stuffer. What better than giving the gift of security during the holiday season.
DeFuser Pepper Spray has a built in disable system that mechanically deactivates the unit if pulled away by an attacker. The keys will stay attached to the users wrist if the DeFuser is pulled away by an attacker allowing the victim to escape to safety while rendering the pepper spray useless to the attacker. Most pepper sprays on the market attach permanently to the key chain, and if the attacker gains possession of the spray they also get the victims keys. No other pepper spray offers such protection!
DeFuser uses the Sabre Red formula and gets up to 80% more shots then the competition. DeFuser features a flip top safety & ergonomic grip design that ensures the users comfort and control. DeFuser comes complete with a multi attachment lanyard and key ring to make it easily accessible. DeFuser is available in Hot Pink & Jet Black, and is made right here in the USA.