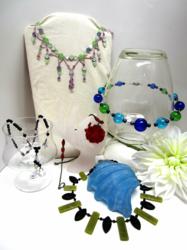 The new necklace collection are made from materials and colors that were specifically chosen to depict and represent the different moods that women wish to express
Los Angeles, California (PRWEB) November 09, 2012
LA jewelry designer SparklePlentyFineBeadedJewellery.com recently launched their brand new "Necklace For Every Mood Collection" which is meant to complement and highlight the moods of women wearing them. Their new innovative range consists of 5 uniquely handcrafted designer pieces with specific colors to depict the moods of women.
According to owner Thea Kolosseos-Kendis, since moods affect the clothes that women wear, it should not be any different for jewelry. Moods basically determine the type, color, design and style of the clothes and jewelry that women choose. Hence she created a completely different yet innovative range of handcrafted necklaces for women to express themselves.
The new necklace collection are made from materials and colors that were specifically chosen to depict and represent the different moods that women wish to express. The Tribal Black Olive Stone necklace has a combination of black and olive colored stones while the Tassel Black Onyx Opalite Necklace is made from onyx and opalite glass. The Hand Blown Glass Bead Necklace has a combination of cobalt, green and turquoise, while the Needlewoven Flowers Necklace is lavender and spring green. There is also a Red Glass Hibiscus Flower Pendant Necklace in the collection.
The color black makes one look slimmer and feel more regal, formal and high-class. It also has a powerful, bold and dramatic presence and is used by women when they want to feel dominating, strong, confident, resilient and in control. When a woman feels aggressive, wants to be committed and taken seriously but also want to look classy, black is usually the preferred color.
Green usually denotes a more understanding, peaceful, contented and compassionate feeling. When worn, it could also give out the signal that a women enjoys being generous, loves nature, is self-controlled yet humble at the same time. It is also a spring color, which is refreshing and shows vitality. Lavender was chosen as it's best known for bringing calm while the color purple is associated with wisdom, creativity and independence. Light purple in this case shows off the feminine and romantic side of women.
Blue is a favorite as it depicts truth, loyalty and tranquility. It makes one feel at peace and gives out the signal that one is reliable as well. Turquoise symbolizes self awareness, being initiative and shows one as being intuitive and creative. This color usually makes one feel happy, relaxed and invigorated. For those who wish to be more passionate and desirable, red is a must as it symbolizes physical energy, courage and adventure. Women who want attention will usually wear red to show their boldness, ambition and drive.
These color combinations are depicted well in the new Necklace For Every Mood Collection which is made from high quality materials.
Each piece of jewelry sold by SparklePlentyFineBeadedJewellery.com are individually handcrafted in the company's Los Angeles studio with only the finest materials available. Their handmade jewelry is one of a kind or available only in limited editions. The company is committed to providing exceptional customer service and stands by the quality of their jewelry. In fact, all their jewelry are backed by a lifetime guarantee.
Customers can view and purchase these limited edition jewelry from their website http://www.SparklePlentyFineBeadedJewellery.com