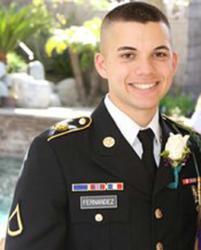 No one is useless in this world who lightens the burdens of another.
― Charles Dickens
Chino Hills, Ca (PRWEB) November 07, 2012
Tryst Hair Boutique and Spa is hosting a Fund Raising Event for US Army soldier Marc Vincent Fernandez. All haircuts by Tryst Professional Hairstylists done on November 11, 2012 (from 10am to 2pm) will be at $25.00 only. All proceeds will go to assisting with the expenses for Marc's wife and children during this time.
An alumni of Chino Hills HS (Class of 2011), SPC Marc Vincent Fernandez is under the 19D Cavalry Scout of the US Army. Fernandez was wounded while driving his Striker vehicle in Kandahar, Afghanistan.
Last November 4, 2012, Marc had surgery done on his left leg. This was the first of many more surgeries, each involving moving muscle and tissue around the leg, as well as skin graphs. Marc is now confined at Brooke Army Medical Center, in Fort Sam Houston, Texas.
To help Marc and his family, Tryst Hair Boutique and Spa will be hosting this event on November 11, 2012. All Tryst Hairstylists volunteered their services for the benefit this young and brave soldier, SPC Marc Fernandez.
Please show your support to Marc by getting a haircut at Tryst Hair Boutique & Spa on November 11, 2012 from 10:00am to 2:00pm.
For more details about this event, please contact:
Tryst Hair Boutique and Spa
13065 Peyton Drive Chino Hills CA 91709
Telephone Number: (909) 6271629
Visit our website: http://www.trystch.com
Join us and RSVP for this event at: https://www.facebook.com/events/301793346593027/