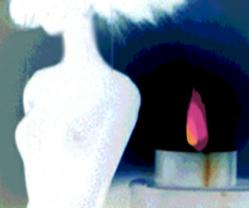 She is kind of a balletic young Arundhati Roy wrapped in American tights. If nothing else, her story in this series will inform, enchant and enthrall you with a renewed sense of the possible.
New York, NY (PRWEB) November 08, 2012
What others are saying about the novel:
"Its observations draw a short straight line of relevance back to the world as it stands today, and in doing so offer a sharp and intelligent indictment of the evils of our time and their possible effect on the shape of our future."
and again...
"The emotional development of the characters is intriguing, as is the understated sci-fi and unfolding espionage, which buffs of those genres will appreciate. Emotions ring true and the relevance to contemporary America is unmistakeable. For me Nine Inch Bride fills a void as the literary answer to Atlas Shrugged."
Why is this hot? As in every Presidential election season, and well beyond, people talk, not only about the candidates and politics as usual, but also about the process and rules by which we manage the practice of democracy in America. Every four years a great many re-question the two party system, nearly everyone laments money in politics, then there's that troubling half of the eligible who do not vote, and last but not least, there are questions of media coverage.
This post-election season is no exception. All of the above discussion and more are mere kindling in this highly irreverent political firestorm. After the election, whatever the outcome, the book's relevance only compounds as moods turn congratulatory, bitter, or introspective.
Set in the near future, we meet Ken, a Wall St. trader and analyst, narrating his fitful descent as he goes broke, into debt, and out-of-work, blindsided in a major market crash. Sound familiar? As too-big-to-fail fails, companies go bankrupt, employees are cut all around, and the financial sector crumbles, he faces his own personal ruin, and is rescued at the brink by the phenomenal heroine Sahar.
A uniquely talented young woman with a dedicated revolutionary agenda, and billions in ill-gotten capital, Sahar, or Sa for short, dazzles and fascinates the vulnerable Ken, seducing him into an extraordinary partnership to change the world with a proposal to join her as moneymaker for her cause.
Working at many levels to recast today's big political questions in a fresh lens, the story grows from a psychological study, deeply disturbing behind its gossamer veil, into a kind of meta-democratic polemic in a riotous dialog led by the perspectives of the unique and eloquent Sa.
In the literate, often symbolic, and always combustible mix, the present and future, real and unreal fuel a serious and lighthearted roast of corporate political culture in America.
Book One of the Nine Inch Bride series is subtitled Conundrum. Contact webmanager@nineinchbride.com for a complimentary review copy.
Book Two, A Stone of Conscience is in final editing and expected to be out early in the New Year.
CONTACT:
Name: James Lesni
Phone Number: 212-982-8976
Email Address: webmanager(at)nineinchbride(dot)com
Web Site: nineinchbride.com