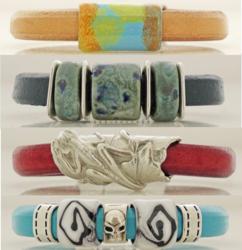 Regaliz™ Greek Leather bangles - the trouble with these is that they are like potato chips! You can't just make one!
Boulder, CO (PRWEB) November 08, 2012
Laura says "AntelopeBeads.com has never had a product catch on so quickly. The site is getting hundreds of orders a week for the Regaliz™ Greek Leather and findings from all over the world. Some customers are ordering 3 to 4 times a week as they cannot get enough."
Even a recent Facebook post from Ms. Backus Hurta stated: "Regaliz Greek Leather bangles - the trouble with these is that they are like potato chips! You can't just make one!!"
Regaliz™ Greek Leather Cord is imported from Greece and sold by the inch. Regaliz is the Greek word for "licorice," which is exactly what the leather cord looks and feels like. AntelopeBeads.com has the largest online collection of with over 50 colors available as well as more than 200 unique findings and supplies.
With an entry price point of under $20, including findings and a clasp, Regaliz™ Greek Leather Bracelets are perfect for holiday gifts. Custom designed jewelry creations can easily be made in less than 10 minutes each for friends, family, and all others on ones gift list. Ms. Cheryl Dart, one of Antelope's loyal customers, said "My husband doesn't even wear a watch, yet he loves to wear his Regaliz Bracelet."
The Regaliz™ product is such a solid and durable leather cord that it can be used for many other projects other than bracelets. One can embellish the Regaliz with seed beads, drill holes into it to add charms and dangles, wire-wrap it, etc., as well as make chokers, dog collars, purse handles, decorate furniture, etc. The creative possibilities are endless!
Visit AntelopeBeads.com to watch our Regaliz™ Greek Leather Bracelet How To Video Tutorials.
About AntelopeBeads.com
AntelopeBeads.com online store sells Beading Supplies & Projects for Jewelry Making promoting and celebrating Artisan and Fair-Trade Beads and Jewelry Components that are largely made by hand. These wonderful, small works of art provide income for expressive artisans here in the U.S. and abroad.
AntelopeBeads.com features Kazuri Beads from Kenya, Dorabeth Designs Pewter Components, Regaliz™ Greek Leather and Findings, Euro Leather & Findings, Paper to Pearls Beads from Uganda, and much more.
The site offers many How To Tutorial Videos, Design Ideas & Inspiration, and Featured Artists/Designers. U.S. orders $50 (after discounts) and above Ship Free.
Subscribe to AntelopeBeads.com
Contact:
Brian Bouck
404-276-2811 or social(at)antelopebeads(dot)com