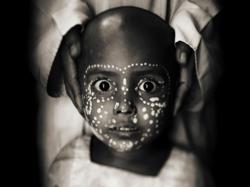 An incredibly powerful, award winning portrait, taken by photographer Javier Arcenillas.
(PRWEB) November 08, 2012
The Winner of the October Shoot The Face Photography Award is Javier Arcenillas from Spain. Congratulations to Javier, it is a very powerful image.
There were some incredibly inspiring portraits submitted into the October contest, check out all of the finalists in the Shoot The Face Finalists Gallery.
Javier has won himself a swag of prizes, and more importantly some invaluable exposure for his amazing work.
Javier describes himself as a humanist. He is the first photographer to receive the FotoEvidence Book Award. In his publication 'Sicarios: Latin American Assassins', he demonstrates his remarkable documentary style talent in Guatemala, where he came 'face to face with several young assassins, the bodies they leave in their wake and the people who struggle with the consequences'. Melanie McWhorter
The November Shoot The Face contest is now open to all amateur and professional photographers around the globe. Anyone that thinks they have what it takes to be the next Shoot The Face Winner can submit their images here.
Shoot The Face is a monthly international portrait photography contest, designed to inspire, expose, and reward talented photographers around the globe. At the start of every month there is a new contest, so grab a camera and start shooting!