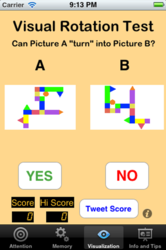 We're paying a price in terms of our cognitive life because of this virtual lifestyle.
Los Angeles, CA (PRWEB) November 09, 2012
For many people, popular high-tech devices such as smartphones and computers have come with a downside: they've become intrusive, made it harder to concentrate and have increased stress. In a New York Times/CBS News poll, almost 30% of respondents under 45 said that those technologies made it difficult to focus. Children may be particularly vulnerable to these troubling effects. Use of various technologies to multitask can challenge the brain's ability to manage stress and to remember information.
In today's complicated world, many people find themselves overwhelmed by distractions and by demands to remember and use complex forms of information. The human brain is under attack by constant distractions, which make it difficult to function at one's best. Success requires the use of many different mental skills; keeping oneself mentally fit is often easier said than done. Some mental health experts believe that excessive reliance on cellphones, the Internet and other technologies can cause people to grow more impulsive, impatient and forgetful. In an interview with the New York Times, Dr. Elias Aboujaoude, director of Stanford University's Impulse Control Disorders Clinic, said, "We're paying a price in terms of our cognitive life because of this virtual lifestyle."
The information overload that comes along with jugging bursts of information from phone calls, email and other sources often can lead to increased levels of stress and reduced short-term memory. People who multitask seem more sensitive than others to the difficulties caused by a heavy dose of incoming information. Working on several tasks at once can actually cause each job to be performed less efficiently, due to the distractions that multitasking creates. Researchers at Stanford University, the University of California, Irvine, and the University of California, Los Angeles have found that multitaskers have trouble filtering information and switching among different tasks, that e-mail interruptions can increase stress, and that stress hormones reduce short-term memory.
What can be done to remedy these ongoing problems and to keep one's brain fit? MyJuice, LLC, a technology company based in Los Angeles, California, offers a solution. MindSharp, its new iPhone app set to launch in the Apple App Store on November 11, is a package of brain games that test the user's directed attention, working memory and visual rotations skills. Directed attention is the ability to focus attention in one particular area despite being distracted. Working memory is the ability to hold onto information for a short time as it is used. Students rely on this ability when doing math or remembering sequences, images and patterns. Mental rotation is the ability to imagine how an object will appear after being rotated. It is important in accomplishing everyday tasks such as navigation, and may be very helpful in making scientific discoveries, in reading and in performing medical procedures.
In addition to performing mental exercises, MyJuice recommends clearing away unnecessary clutter when it's time to accomplish something important. Multitasking is not the answer, because every switch from one task to another wastes valuable cognitive resources. By concentrating on doing one task well, and ignoring the urgent distractions that come up along the way, one can vastly improve his or her overall productivity, decrease stress and feel a lot better in the long run.
For more information on MyJuice and its first app, MindSharp, contact Nathaniel Wyckoff at nate@myjuiceapps.com, or visit the MyJuice website: http://myjuiceapps.com. MindSharp may be purchased through the Apple App Store. Tab bar icons shown here by Glyphish / http://www.glyphish.com
About MyJuice, LLC
MyJuice, LLC was founded earlier in 2012 by Dr. Nathaniel Wyckoff, a graduate of the Biomedical Physics Interdepartmental Graduate Program of the David Geffen School of Medicine at UCLA. His postdoctoral work there included studies on the correlation between brain imaging and neuropsychological (NP) test performance. Inspired to use his knowledge of NP testing to help others, he developed a product that consumers could use to discover their own hidden potentials.