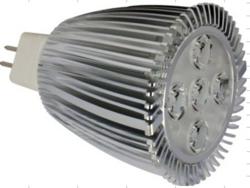 (PRWEB) November 19, 2012
Apart from other kinds of LED lamps, 3W high quality [ZT-M16G5.3-311F] spot light is introduced by Zhongtian Lighting, a top led light manufacturer in China. It is used to replace those old, high energy consumption and low luminous efficiency lamps. Besides, it is widely used in supermarkets, hotels, taverns, exhibition halls, discos, singing halls, meeting rooms, show windows and so on.
The [ZT-M16G5.3-311F] LED light is designed for stylish architectural façades or for landscape lighting, as well as spot lighting points of attraction or for public lighting as needed. The LED light unit has a mounting bracket so it can be secured with bolts anywhere it is needed. In addition, it consumes a maximum of 3 watts of power, so it will significantly reduce users' electric bills, providing a return on investment in a very short time. Another factor of bright spot for lighting users and the environment is the LED spotlight's long life, rated at 50,000 hours, which will drastically cut lamp replacement costs and reduce the amount of waste going into landfills.
The LED spotlight's lamp-base version is offered in Warm White (3000K) and Neutral White (4000K), and in choice of either 30° or 45° beam angle. This versatility, combined with their powerful output of 450lm, makes the MR16 3W led lamp an ideal for a wide range of applications – from offices and stores, to hotels and restaurants, and even private homes.
In addition to energy saving and environmental protection, LED spot has many "special function". It can adjust the color and brightness according to the demand, for example, you can change with the mood. Thus, the bedroom light is sometime yellow, sometimes green and sometimes pink. It is undoubtedly the advantage that immediate energy-saving lamp unparalleled. Furthermore, because the LED built-in controller chip, consumers can even achieve the operation of the wireless remote control home lighting, before going home early to open the living room lights.
Zhongtian Lighting is engaged to providing energy-efficient and affordable solution, so that cater to today's lighting needs. For more information, please visit http://www.ztlights.com.