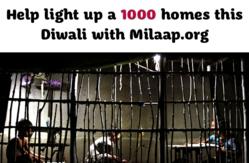 As little as $20 can help bring families out of darkness in rural India through solar lighting.
Bangalore, India (PRWEB) November 07, 2012
Social Enterprise Milaap.org has announced a campaign to bring solar lighting to households in India that have no access to electricity.
Milaap raises funds to help the poor get access to essential needs such as clean drinking water, sanitation, education, clean energy apart from livelihood opportunities through their website http://www.milaap.org. These funds are disbursed as loans, rather than donations. Anyone with an internet connection and the desire to do good can lend to the borrowers on the site, starting with as little as Rs. 500 or US$20. 100% of the money goes to the borrower chosen, and when the borrower repays the loan, 100% of the money is returned to the lender. The lender can then choose to withdraw the money, or re-lend it to someone else in need, thus multiplying the impact.
Microlending or microcredit is the extension of small loans to the poor who have no access to banking facilities or have no collateral to borrow money. Microfinance institutions bridge this gap by lending small sums of money without collateral and at interest rates that typically range from 24-36%. Milaap's interest rates are 50% cheaper compared to traditional microfinance lending rates. Typically, microfinance programs focus on livelihood generation, but Milaap goes beyond just loans to micro entrepreneurs and raises funds for basic needs for those at the bottom of the pyramid.
Diwali is known as the Festival of Lights and is celebrated across India by lighting up homes with lamps and lanterns. Through the 'Light a 1000 homes' campaign, Milaap is urging people to include the underprivileged sector as part of their Diwali celebrations by helping them get access to lighting at home too. With a loan of $200 or Rs 10,000, families can install solar panels at home that will help power 3-4 CFL bulbs, two fans and an electrical socket for up to 6 hours each day. The loan recipients are often unable to afford the system at home upfront, but with the loan they will be able to pay for it over a period of 24 months in small, affordable installments.
The loans for solar lighting will serve villages on the Eastern coastal parts of India in the Sunderbans region in West Bengal and Koraput, Kalahnidi, Balangir villages in Orissa. The loan programs extend to Southern India as well, to villages in and around Hubli, Dharwad, Koppal in Karnataka. Households that live without electricity often rely on kerosene lamps for light. Kerosene is subsidized by the government for domestic use, but the rationed quantity is hardly sufficient – this means they rely on the black market and end up paying upto three times the price. Installing solar panels at home will mean that a one-time investment can help them save a lot of money spent on kerosene in the long run and prevent potential health hazards from this unclean source of energy.
Milaap urges you to contribute as little as $20 or Rs. 500 and help bring entire communities out of darkness this Diwali. For details, go to http://www.milaap.org/Diwali
About Milaap
Milaap was founded in 2010 by a team of young and passionate entrepreneurs from premiere institutions in India and Singapore. This award-winning online microlending platform (http://www.milaap.org) enables anyone around the world to lend money to the working poor in India at very low interest rates. The process is simple. Choose a borrower. Make a loan. Get repaid. Recycle. So far, it has raised USD$600,000 for borrowers across India with 100% repayment rate on the loans disbursed till as of November 2012.