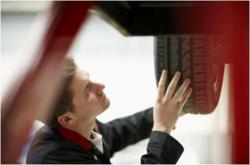 (PRWEB UK) 9 November 2012
The next time a firm's company cars or vans needs new tyres, they shouldn't just go for the cheapest – it may be a false economy.
That's the message from the Energy Saving Trust, which says that businesses in the UK could save £500 million a year at the pump if they fitted more fuel-efficient tyres to their company vehicles. (The EST is an independent charity with no affiliation to the tyre industry.)
The EST's calculation is based on half of the 3.9 million company vehicles in the UK – that's 2.4 million cars and 1.5 million vans - switching from the least efficient tyres to the best, a move that could improve fuel consumption on the vehicles concerned by 7.5 per cent - representing a staggering 1 million tonnes in CO2 emissions.
So surely on most people's minds the obvious question would be, which tyres are the most fuel-efficient? A new system of EU-mandated tyre labelling came into force on 1 November will help them decide.
To find out more, visit the article on Business Car Manager blog here
This article talks about the tyre labelling registration, which officially came into effect since last week (1st November).
Business Car Manager has a variety of advice on business car profile and business mileage.
For more information, visit Business Car Manager at http://www.businesscarmanager.co.uk/