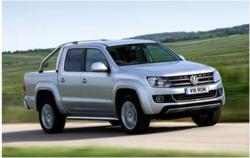 (PRWEB UK) 7 November 2012
VOLKSWAGEN's Amarok pick-up has been given a power boost and improved economy, in addition to a range of new features.
The original 163hp BiTec engine has been upgraded to produce 180hp, and efficiency has been enhanced with the introduction of VW's BlueMotion Technology.
The towing weight for manual models has also been increased from 2,800kg to 3,000kg, and the introduction of a new eight-speed automatic transmission has given an even greater towing limit of 3,200kg.
The adoption of BlueMotion Technology has improved fuel economy and lowered emissions with the use of low rolling resistance tyres, Stop/Start and regenerative braking. As a result, the 180hp BlueMotion Technology is better than 10 per cent more powerful than the previous 163hp model, yet is 3.9% more economical, with a combined fuel consumption figure of 37.2 mpg compared with 35.8 mpg previously. In addition, emissions drop by 10 g/km to 199 g/km.
Importantly for a workhorse of this type, torque has been increased from 400Nm to 420Nm at 1,750 rpm for the eight-speed automatic transmission variant. There is a 'sport' as well as a 'drive' setting, and sequential shifting can also be selected. This is available exclusively as a Highline model with BlueMotion Technology and permanent 4MOTION for a retail price of £25,105 (ex-VAT).
Read more on the features of the VOLKSWAGEN Amarok on the new article from Business Vans here
Keep up to date with developments in our Business Van News section.