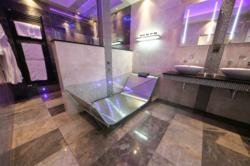 Wow Wow Wow
The Lake District (PRWEB UK) 8 November 2012
Lake District hotelier Stephen Hargreaves has announced ambitious plans to be the most 'liked' boutique hotel on Facebook.
Five-star Bowness hotel The Cranleigh already has more followers than any other boutique accommodation in the UK, with 24,500 'likes' on the social networking site.
But Mr Hargreaves has announced major plans to give away up to 75 free nights worth £15,000 in a bid to increase the hotel's Facebook following to 100,000.
"Other hotels may think we are mad," he says, "but we believe that you have to give in order to receive, and that's what we are doing.
"My wife Louise and I bought The Cranleigh five years ago with a vision to create one of the best places to stay in the Lakes.
"The Cranleigh is now one of the Lake District's best establishments, already achieving the number-one spot on Trip Advisor in Bowness, and having a phenomenal 24,500 Facebook followers, more than any other boutique provider in the country."
Mr Hargreaves is asking people to follow and share The Cranleigh with their Facebook friends. For every 1,000 new followers, they will give away a free night's stay in one of their luxurious rooms, including a bottle of Champagne.
This is the first push of its kind on Facebook by an accommodation provider, and Mr Hargreaves says, "We have recently had phenomenal success on Facebook, and have received so many fantastic comments from previous guests and people who want to stay with us. It's our way to say a huge thank you."
To take part, simply visit The Cranleigh Bowness on Windermere on Facebook, 'like' the page, share with your friends, and enter the £15,000 giveaway tab on the page.