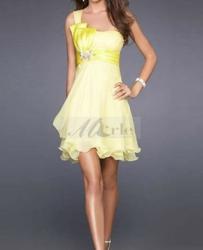 (PRWEB) November 07, 2012
On Nov. 5, 2012, Merle Dress, one of the leading wedding dress online suppliers, released its evening dresses 2013 collection after two months' careful preparation.
Since Merle Dress launched its evening dresses 2012 series in July, the market response has been unbelievably good. According to Donnie Terry, CEO of Merle Dress, the turnover of evening dresses in 2012 is expected to be twice than 2011.
The followings are some details of the new Merle Dress collection:
◆ High-quality comfortable fabrics,
◆ Fine sparkling beads, to make the dress look more elegant,
◆ Exquisite embroidery, to help the dresses more shining,
◆ Proper ruching,
◆ Nice-looking appliques, the soul of a dress,
◆ Fine lining and boning.
Donnie Terry, CEO of Merle Dress, said, "Many customers find Merle Dress at weheartit.com. Yes, you can know more about us through the Merle Dress Video on YouTube. The Christmas and New Year 2013 are coming, and they are the most important festivals for every business. We hope we can expand our business and maximize our market potential in the coming two months."
"With all our growth and development, it just felt like the right time to give something back to our customers. Furthermore, we have a money-back guarantee, which provides customers a risk-free way of trying out any of our amazing dresses." Continued Donnie Terry.
About Merle Dress
MerleDress.com is the leading supplier of wedding dresses, evening dresses, special-occasion dresses, and wedding dress accessories from China. Merle Dress started with a basic idea of helping women dress better and is now famous for its outstanding quality in fabric, materials, and fit without the inconvenience and costs of traditional bridal boutiques and retailers.
For more fashion tips, please visit: http://www.merledress.com/