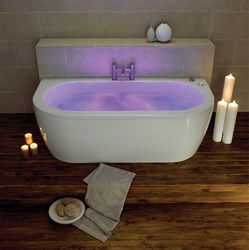 ..now stock the new Moods Wellness System containing hydrotherapy technology in a whirlpool form.
(PRWEB UK) 8 November 2012
Bathroom products such as Baths are increasing in popularity and more manufacturers are releasing new designs, styles and finishes to help home owners create a luxury bathroom suite. One of the most important aspects to any bathroom is the bath/shower itself. Purchasing a one of high quality can result in a wonderful centrepiece display capable of transforming a room. Bella Bathrooms stock an extremely wide range of baths in numerous styles, suitable for any room. They now stock the new Moods Wellness System containing hydrotherapy technology in a whirlpool form.
A Wellness Whirlpool System contains multiple benefits to an individual including a reduction in stress and tension whilst improving circulation and reducing heart rate. The system is also capable of removing the body of toxins, toning skin and relieving muscles for the ultimate relaxation experience. The systems contain a massage function whilst the airspa system creates a soothing champagne effect. Within the range, six different variants are available including the Wellness sound system allowing consumers to enjoy their favourite music with the aid of Bluetooth connection. Not only can home owners bathe in style but the added addition of soothing music can make the experience even more enjoyable.
Another option is the Wellness airspa system featuring 12 air jets positioned in the base of the bath providing a luxurious bathing experience. For those wanting to add additional style, the system available with lights can transform the suite into a bright and unique presentation. Seven different soothing colours are available therefore consumers can select the perfect choice to help co-ordinate with any design or décor. All of the systems feature a special ultra quiet blower allowing you to enjoy your experience in peace and tranquillity.
The Wellness whirlpool systems contain six chrome effect variable jets capable of instantly relaxing the body. This system also features chrome effect dual controls for a simplistic usage allowing an easy experience overall. Like previously stated, the Wellness whirlpool system with lights is an additional option to add extra style. These two systems come with a fast draining vortex waste to allow a quickly remove water, double the speed of traditional units. The pump equipped is capable of displaying 205 litres of water per minute, reducing the wait duration when filling the system.
The final alternative available is the Wellness chromatherapy system which comes equipped with all seven lights allowing home owners to select a colour to match their mood or run a pre selected sequence for a equal balance. This unit features 21 chrome fixed and directional jets. This includes 8 base jets, 5 whirlpool jets, 6 back jets and 2 reflexology foot jets all combining to create the ultimate experience. A directional flow valve allows the user to isolate various jets to focus on specific sections of the body that may require the most attention. Visit the Bella Bathrooms website now to view their range of Moods baths all capable of being equipped with individual Wellness Systems.
About Bella Bathrooms:
Bella Bathrooms is one of the finest UK online bathroom retailers based in the North-East of England and offer continuous great deals of bathroom refurbishments, shower, towel rail and radiator updates, stylish bathroom furniture and various other key elements at prices that are guaranteed to be unsurpassable. The latest updates continuously made have further improved the overall quality and they have set a high standard for things to come in the future. The company also own a number of other e-commerce sites with their latest addition being ibathroomsuites offering most bathroom suites with a next day delivery service.
Bella Bathrooms
Tel: 0844 8117 017
Available to contact from 9am – 5pm