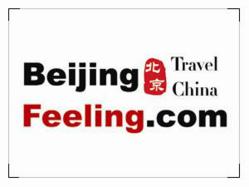 Enjoy a Beijing Tour with Beijing Feeling Travel Service!
(PRWEB) November 07, 2012
On Nov. 6, 2012, BeijingFeeling.com, one of the leading Beijing travel service companies, announces its Beijing Feeling Tour Service, which includes Old and New Beijing Tour Packages.
In the Old Beijing Feeling Tour package, tourist will visit the old Hutongs in Beijing and the ancient Great Wall, because they can reflect the historical aspects of Beijing typically.
"The Old Beijing Feeling Tour will provide visitors a good chance to experience the aged Beijing lifestyle and culture. The old Hutong tour shows you the traditional culture and original lifestyle. Visitors on Hutong tour will visit the typical Chinese quadrangles, where you can experience the real life of ordinary people in Beijing." Said, Alan Zhang, CEO of BeijingFeeling.com.
Just as a Chinese proverb going that "He who has never been to the Great Wall is not a true man." Any trip to Beijing is not complete without a visit to the Great Wall. This is also the reason that a Great Wall tour is essential to the Beijing Feeling Tour.
The New Beijing Tour mainly includes the following places: Bird nest (one of the "World's Top 10 Constructions"), CCTV Headquarters, 798 Art Factory, Houhai Bar Street, Nanluoguxiang street, and Yandai Byway. Each of these can be a mirror of modern Beijing. Take 798 Art Zone, for example. It is a part of Dashanzi in the Chaoyang District of Beijing that houses a thriving artistic community, among 50-year old decommissioned military factory buildings of unique architectural style. It is often compared with New York's Greenwich Village or SOHO.
"It is my first time to visit Beijing. After a tour of old Beijing Hutong, the visits to Houhai Bar Street, Nanluoguxiang street, and Yandai Byway can really give me a strong feeling of aged and new Beijing's cultural exchange. Thank you! " Said, Tracy Hagstrom, a visitor from London.
"We try to be original, unique and different from our competitors in how to satisfy and impress our valuable clients. Additionally, we provide visitors with a fast, sincerity, flexibility and reliable response to their requirements in China." Stated, Alan Zhang.
About BeijingFeeling.com
Founded in 2008, BeijingFeeling.com is one of the leading Beijing tour companies, and offering over 200 pre-designed China tour packages covering major destinations in China as well as China's tailor made tours per customer's request. BeijingFeeling.com is ready to assist each customer to plan a memorable China tour.
Please visit http://www.beijingfeeling.com/ for more details.