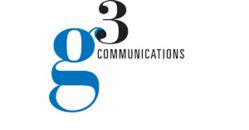 This honor is validation for all our hard work and creativity over the past five years," says Andrew Gaffney, President of G3 Communications.
Hasbrouck Heights, NJ (PRWEB) November 07, 2012
G3 Communications has been named a finalist in the Emerging Business of the Year category in the 2012 NJBIZ Business of the Year awards program. The Business of the Year awards program celebrates New Jersey's most dynamic businesses and business leaders who share a commitment to professional excellence, business growth and the community.
G3 Communications, a Hasbrouck Heights based company, was launched in 2007 as a digital media company. The company publishes digital newsletters and has expanded into the marketing services and event production sectors.
"This is an honor for G3, particularly as we approach our 5 year anniversary," says Andrew Gaffney, President of G3 Communications. "As a young company starting out in a tough economy, we are very proud of our staff and accomplishments. To be honored by a publication such as NJ Biz is validation for everyone's hard work and creativity."
G3 Communications grew by more than 400% over the past three years, and is on pace to grow more than 60% again in 2012. The company has added more than 50 new clients over the past year including top brands in new verticals such as Hess in the energy sector, Equifax in financial services and Dell in high tech.
Finalists and winners were chosen by an independent panel of judges including: John S. Buzza, Monmouth University; Gerald Creighton, Sr., MBA, NJIT Enterprise Development Center; John Farrell, Rider University; Donald N. Lombardi, Ph.D., Stevens Healthcare Educational Partnerships Stevens Institute of Technology and Dr. Kathleen Reddick, College of St. Elizabeth.
The Business of the Year award finalists will be recognized and the winner in each category will be announced during a formal awards dinner on December 3, 2012 at the Palace at Somerset Park in Somerset, NJ.
About G3 Communications
G3 Communications is a digital media company, publishing Demand Gen Report, Retail TouchPoints and Channel Marketer Report. The company also provides marketing services and consulting, with established expertise in demand generation and content marketing.