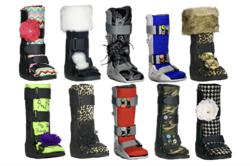 I think it's ingenious!!!
Nicole Hait, InventHelp®
Gainesville, Virginia (PRWEB) November 08, 2012
Christina Daves, Founder of Castmedic Designs, LLC, was named the winner of the "Steve's Top Inventor" competition on the nationally syndicated Steve Harvey show.
Ms. Daves, who designs and sells fashion accessories for medical boots, was selected to compete along with five other budding inventors, each of whom demonstrated their unusual and innovative products on the show. The competition took place before a live studio audience and Ms. Daves was selected the winner by a panel of judges including, Nicole Hait, Director of Corporate Communications, of InventHelp® and Reggie Moore, VP of Marketing, Hillshire Farm Brand at Hillshire Brands. In addition to serving as judges, representatives from InventHelp® and Hillshire Farms Brand at Hillshire Brands each awarded Ms. Daves $10,000 in seed money to assist in furthering her product line.
This year, close to 4 million people in the U.S. will have surgery or sustain an injury and end up wearing a medical boot. Ms. Daves, founder of CastMedic Designs, wants people who suffer an injury to experience, "The Healing Power of Fashion®" with an exciting, innovative new line of MediFashions™, fashion accessories for medical boots. This first of its kind product is revolutionizing the medical industry by showing consumers that adding fashion to function when placed in bulky, unattractive medical devices brings a positive experience to the healing process. Studies show that an optimistic outlook helps in the recovery process and CastMedic Designs offers people the opportunity to Look and Heal Their Best!
Ms. Daves literally stumbled onto a niche market in the medical industry when she broke her foot in the summer of 2010 and was placed in a medical boot. To make the boot more fashionable, she began designing wraps and accessories to dress it up or down depending on the occasion. It didn't take long to realize that there was an untapped market for medical boot fashion within the medical industry and Castmedic Designs was launched.
Products include:

Wrap-Its - decorative faux fur cuffs to wrap around the top of the boot
Strap-Its - flowers and faux fur accessories that are attached on any strap of the boot
Click-Its – a children's line of pin back buttons worn on any strap of the boot
Sock-Its - decorative "socks" worn over the liner of the boot
All products were designed for easy attachment with hook and loop and all Strap-It flowers come with an alligator clip and pin-back for after-injury use.
With close to 60 products to choose from including faux-fur wraps, decorative "socks", flowers, and themed buttons for children, there is no reason anyone has to be unhappy in a boot ever again.
The Steve Harvey show, which began airing in September is a one-hour daytime show hosted by TV personality, comedian, radio show host and best-selling author, Steve Harvey. It is produced by Endemol USA.
Earlier this year, Ms. Daves was recognized as one of the Top 200 Leading Moms in Business by StartupNation.com.