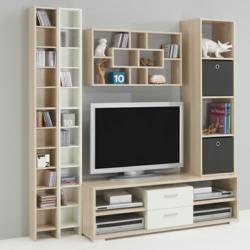 FurnitureInFashion Announces Tasteful, Fresh Living Room Collections for 2013
(PRWEB UK) 11 November 2012
Either it's a small lighting fixture or a king size bed, FurnitureInFashion is here to bring some of the finest, tasteful and unique living room ideas. It has again taken the lead again with the launch of a beautiful and tasteful TV Combi White and Baltimore Walnut living room setting for its customers. This beautiful furniture collection for living room is offering enormous space, style and practicality and will make a big success due to its absolutely fantastic blend of white and Baltimore walnut. As the year is proceeding to an end along with the festivity of Christmas, FurnitureInFashion has worked towards bringing warmth and refreshing taste in the living room with the use of luxurious Baltimore. The owner and Managing Director of FurntiureInFashion Asad Shamim said, "Before the beginning of new year and to celebrate the festivity of Christmas with our clients, we are offering this exquisite range of living room collections. We not only want the current festivity to be memorable for our customers but we also wish to start our new year of business with something refreshing and exquisite. Our TV Combi range definitely will give us a good start of the year."
The TV combi white and Baltimore Walnut range of living room furniture is part of complete solution for a living room. The beautiful and exquisite Italian design concepts have been transformed into furniture products by using German manufacturing processes. This contemporary living room range can be used either in its current form or can be extended by adding extra units in them. TV combi White and Baltimore Walnut living room setting comprises of 1 CD/DVD storage tower in white whereas another CD/DVD storage tower in Baltimore walnut, Hallo2. Hallo2 storage tower had 9 adjustable shelves and 1 fixed shelf. Mr. Shamim said, "This storage tower can hold up to 165 CDs or 70 DVDs or 60 CDs and 50 DVDs. The surface of these shelves has been provided the protection of melamine to protect them against scratches and heat. These storage towers are excellent storage solutions for your home and you can also display your favorite ornaments in these shelves."
TV combi living room range includes Baltimore walnut wall shelves, Lasse. It has 8 open compartments where books or CDs can be displayed. These compartments can also be used to display different ornaments. The walnut Baltimore shelves has been given melamine finish to provide them ultimate protection against scratches and heat. There is a Mega4 Baltimore walnut bookcase as well in this range.
The TV combi range also includes a display unit with four compartments. This bookcase with four compartments can be mounted vertically or horizontally as per the requirement. Mr. Shamim said, "Our motive with this range has been to provide ultimate storage and practicality in your living room, making it a perfect place for your family and friends."
Lastly, this range includes a Nemo white/Baltimore walnut modern TV stand with 4 open compartments and 2 drawers. The TV unit is in a beautiful combination of white and Baltimore walnut finish. The shelves in this unit are not adjustable. The surface of this unit has also been given a finish of melamine for providing ultimate protection against scratches and heat. Finest quality material has been used by incorporating German manufacturing processes.
About FurnitureInFashion
FurnitureInFashion is a UK based online retail business. It supplies furniture items from its German based warehouse and has a showroom in Bolton, UK. The company provides everything from umbrella stand wall art and room dividers to bedroom, bar stools and computer tables. FurnitureInFashion offers excellent free delivery within UK and has a fantastic customer service as well. For further information and details about the sale, visit http://www.furnitureinfashion.net