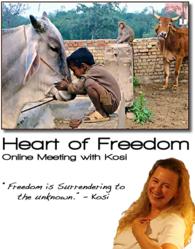 ... Heart of Freedom makes such an incredible difference in my life and the lives of those around me...
Ashland, Oregon (PRWEB) November 12, 2012
The Heart of Freedom is a live monthly webcast and teleconference with Kosi that includes the support of a global online community. The Heart of Freedom Live Webcast with Kosi began in March of 2012 and will continue in 2013 with an additional webcast that offers French translation.
The purpose of these meetings with Kosi, is to discover directly, intimately, the indescribable happiness and freedom of our true nature, which can be extremely difficult to perceive due to the feeling nature of our body and mind.
Kosi works directly in the moment with anyone who feels called to participate through an interactive phone call and live webcast. She deftly, and often humorously, supports anyone who asks for help in seeing through the natural movements of the mind that can cause endless cycles of suffering and act as illusory barriers to this freedom of our inherent nature.
On her new iTunes podcast Kosi explains, "What is the Heart of Freedom? What does freedom mean in terms of liberation from cycles of suffering? What does it mean to be free or awake? Freedom in the context of the teaching I offer is not an attainment, it is who you are, it is the essence of the life that is beating your heart and breathing your lungs; the consciousness that is looking out through your eyes. Conceptually we can understand that we are living breathing beings of consciousness, but if it remains conceptual it misses the Heart of Freedom; it overlooks what is always already awake inside of you."
Simple does not necessarily mean easy, but with the willingness to open and inquire into what can sometimes be painful emotions, can lead to an extraordinary realization of lasting happiness and freedom that is alive inside of you and everyone. Directly realizing this living happiness is the challenge of a life time due to the hidden barriers of our genetic, social, and cultural conditioning. These online meetings with Kosi offers the support necessary to expose and directly examine any perceived barrier to your own direct recognition the happiness and freedom of your true nature.
Self-inquiry is the essence of Kosi's support, which is a very potent and intimate inquiry into the truth of who you are. Essentially, it is simply the opportunity to stop and be quiet long enough to examine the source of any thought, feeling, or emotion that arises in our physical form. In the willingness to simply stop and open there is the very real possibility of ending your suffering.
The Heart of Freedom a living expression of the happiness and fulfillment of your true nature and is made possible by donation only. For more information please visit the Heart of Freedom information page or if you would like to participate in these meetings you can register now.