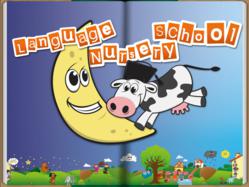 Many benefits derive from learning nursery rhymes. In addition to language development, children can learn memorization and reading skills." Cara Batema, eHow
Halifax, N.S., Canada (PRWEB) November 08, 2012
Parents will soon have a new tool to strengthen their children's education. Language Nursery School uses fun, interactive and familiar nursery rhymes to expose children to French, German, Spanish and Italian. Soon to be released, Language Nursery School has created a Kickstarter project (http://kck.st/SeaAkc) where parents can get early access to the app.
Beyond giving kids a head start on new languages, Language Nursery School can aid in your child's cognitive skills. Jürgen Meisel, of the Language Research Centre, says that children have an inborn language acquisition faculty that, during age 18 to 36 months, enables them to develop and productively use large parts of the grammar of the languages they have been exposed to since birth. Ellen Bialystok, of York University, has found that children exposed to more than one language tend to perform better on exercises that require blocking out distractions and switching between two or more different tasks. These studies and more show consistently the educational benefit of exposure to different languages.
Language Nursery School has other benefits including increase multi-cultural awareness, increased ability to decipher sounds and meanings, as well as an appreciation for the rhythms and structures of other languages. Most importantly, it gives parents a quality activity to spend time with their kids.
Language Nursery School has been developed by EverAge Consulting Inc., and will be released for the iPhone, iPad, Andriod, Chrome, Mac and Windows. To find out more, visit the website at http://www.languagenurseryschool.com, and also visit our project on Kickstarter at http://kck.st/SeaAkc.
Other educational apps by EverAge include:

About EverAge Consulting
EverAge Consulting, is located in Halifax, Nova Scotia, Canada. EverAge is a consulting firm that specializes in Content Management implementations and application development. For more information visit http://www.everage.ca/
Media Contact:
Andrew Wilcox
President
902-482-0510
Canada
Copyright (C) 2012 EverAge Consulting Inc. All Rights Reserved.