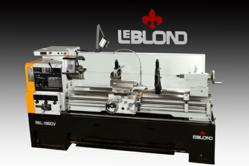 "The RKL-1960V lets you machine larger stock up to 19" in diameter," said LeBlond's DeWitt Engle.
Amelia, OH (PRWEB) November 12, 2012
LeBlond, a supplier of OEM service parts and LeBlond lathes, is introducing a new 19 X 60 inch/metric lathe with an electronic variable speed headstock. The new RKL-1960V is similar in size to the 19" X 54" LeBlond Regal, a model that was popular but is no longer available. "Compared to the RKL-1560V", said LeBlond's DeWitt Engle, "the RKL-1960V lets you machine larger stock up to 19" in diameter."
The Electonic Variable Speed Headstock provides three gear ranges that supply high-torque in a low range (30 to 125 RPM), medium range (125 to 450 RPM) and high range (450 to 2200 RPM). The electronic control panel, powered by a 7.5 HP motor, is mounted above the headstock and provides a RPM-LED digital display, on/off power indicator light, speed control, emergency stop and spindle-jogging buttons. The "infinitely-variable" speed is controlled by an AC motor inverter.
The LeBlond RKL-1960V has a headstock spindle machined from forged alloy steel and has a three point, high-grade precision bearing support. The spindle is hardened, ground and dynamically balanced with a 3.149" spindle bore. The machine base is made of solid cast iron and requires floor space of 55" X 115". The bed is made of a mechanite casting to relieve stress and the bed ways are induction hardened and precision ground. The precision, hand-scraped bed has a removable gap and the bed design provides extreme rigidity for accuracy and maximum stability.
The swing-over-bed is 20" with a 60" distance between centers. Longitudinal feed is at 0.0015 to 0.04 inches per revolution (IPR) while the cross feed ranges from 0.00075 to 0.02 IPR. The threading process allows inch, metric, modular or diametrical. The RKL-1960V is well equipped with "standard" equipment, is value priced and available in various sizes and models to meet all production requirements.
The RKL signature represents the quality, precision and care that were built into every LeBlond lathe. "Although we're known mostly for replacement parts, we began introducing lathes again in 2011", said Jon Tallman, President of LeBlond Ltd. "In 2011 we finished the RKL-1560V which was capable of machining a part that was 15 inches in diameter. Now we've done the 19 inch RKL-1960V. Will we go bigger? You'll have to wait and see," continued Tallman.
For additional information call LeBlond at (888) 532-5663 or visit our website at leblondusa.com.
Corporate Information
LeBlond is the only company in the world with both OEM replacement parts for LeBlond and Standard Modern lathes, KO Lee grinders, Johnson Presses and Deka Drills. LeBlond sells new machines, rebuilds equipment and offers world-class accessories and tooling items. Whether your manufacturing needs require genuine LeBlond parts or quality industrial products, you can "one-stop" shop at LeBlond.