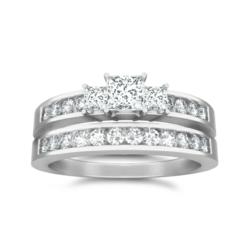 JewelOcean offers 5% military discount on diamond engagement rings and wedding ring sets
Baltimore, MD (PRWEB) November 08, 2012
It takes true bravery for a person to join the military and armed forces and fight for their country day and night. To honor all of the courageous soldiers out there, JewelOcean has introduced the new military discount on engagement rings. Now, military personnel can enjoy a 5% discount on wedding rings and other elegant jewelry.
With all of the high engagement ring and wedding ring prices out there, it's tough to find a reasonable price. JewelOcean's military discount on engagement rings provides customers with even lower prices, on top of their already discounted prices. Instead of purchasing a wedding ring and going over budget, military soldiers are able to find their partner's dream ring for a bargain price.
JewelOcean's military engagement rings discount allows customers to purchase an already cheap ring for even less. This discount applies to all of the engagement rings, wedding rings, and diamond rings on the JewelOcean website, with an exception of the closeout sale items, which are already reduced in price. This allows customers to choose from an assortment of engagement rings and apply the military discount to almost any ring he or she chooses.
The military discount on rings is an admirable trait for JewelOcean, as they offer lower prices to brave men and women who have sacrificed for their countries. The process is very simple if a customer wishes to apply the military discount on an item. When the individual finishes filling out an order, their military email address must be submitted and the JewelOcean system will automatically give them a 5% discount. If, for whatever reason, the individual cannot submit their military email address, then they can simply call the 24/7 customer service line to receive assistance from a worker.
JewelOcean has a wide variety of engagement rings to choose from. There are gemstone rings, promise rings, solitaire rings, engagement rings, wedding bands, and much more. With the customer's choice of centre stone, type of gold or silver, and ring design, each person will find the perfect engagement ring for their lover. The sizes range from 4.5 to 9, with additional sizes likely available upon request.
The wonderful thing about the military discount on engagement rings is that the layaway payment option is still available. Even on top of the 5% military discount, the customer can choose to put the item on layaway. This means the customer pays a 10% down payment of the purchase price, then makes additional payments how and when they desire. This makes it even easier for a couple to purchase their engagement or wedding rings, and maintains the customer satisfaction guarantee.
JewelOcean, an online jewelry retailer, guarantees the lowest prices to all of its customers. The company provides the military discount on rings to honor the brave soldiers who have fought for their country. With a discount on already low prices, customers are sure to love JewelOcean. For more information and to view the assortment of beautiful rings, visit JewelOcean.com for more details.