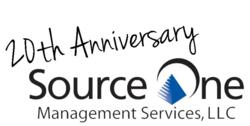 To date, Source One has sourced billions of dollars in products and services and has achieved over $1 billion in savings for its clients.
Willow Grove, PA (PRWEB) November 09, 2012
Source One Management Services, LLC is proud to announce its 20th Anniversary and celebrates this milestone by recognizing the significant accomplishments the company has reached over the past two decades. Source One produced a multimedia presentation depicting the company's twenty years of providing strategic sourcing and procurement services while producing cost savings for leading global companies.
Source One, founded in 1992 in the greater Philadelphia area, has evolved from its beginnings as an advocate for buyers to the professional services firm it is today. One of the remaining founders, Abe Podolak, is currently active with the company as its Chief Supply Officer.
"In 1996, Dataram engaged Source One initially to analyze our telephone systems and Abe was able to cut our costs. As our relationship with Source One continued over the years, Dataram has saved a lot of money and streamlined operations. They have helped the company with a spectrum of projects including chip memory, a production furnace, and purchasing personnel recruitment. Source One's people act with integrity and are competent in what they do," stated Mark Maddocks, retired CFO of Dataram Corporation.
As a main player in the procurement transformation world, Source One has negotiated with thousands of suppliers around the world on behalf of clients.
"I was in the construction business for a long time when I read an article that included a statement regarding the fact that businesses were more focused on sales rather than on buying practices. The statement hit home as, at the time. I was unhappy with our means of purchasing concrete accessories. Source One was credited as the source for the statement so I interviewed the company and was impressed by their approach and buying process. As a result, we hired Source One in 2000, to improve efficiencies in our purchasing department. Source One helped us buy on general contracts rather than job-by-job. Other tangential benefits that I didn't foresee included improving our ordering process, making it easier for our project managers to approve bills. Our estimating department also benefited as we know knew what our costs were for accessories. Our suppliers even agreed that they felt our new purchasing practices were healthier and more efficient. We are very pleased with our selection of Source One," said Jim Dolente, Sr., Chairman of the Board of Madison Concrete Construction.
To date, Source One has sourced billions of dollars in products and services and has achieved over $1 billion in cost savings for its clients.
"The longevity of our relationship with Source One is a result of our similar corporate cultures. We are able to connect on a personal level and Source One's openness, candor, and approachability is consistent from management to the most junior levels. If Source One continues to engage clients in this way, they will continue to be successful as they have been over the past 20 years," said David Clevenger, Vice President of Corporate United.
Source One's leadership is extremely proud of the company's success. In 2003, Steven Belli was brought on to forge growth and lead the company into the future. Belli helped to restructure the company and refocus its efforts. Since his arrival, the company has averaged 15 to 20 percent growth each year.
"Over the years, we have improved our approach to business. Our clients remain engaged in our process, we hire qualified people, and we invest our time and resources efficiently. While Source One has been profitable since its inception, our growth has accelerated since the start of the recession. Our focus on strategic sourcing has resulted in companies choosing to work with us rather than general consulting firms to help drive savings initiatives," said Belli, Chief Executive Officer.
Currently, Source One is recognized as one of the leading procurement service providers, helping companies in all types of industries improve supplier quality and service while lowering costs. Source One developed and maintains WhyAbe.com, the first free e-sourcing tool as a platform for buyers and suppliers to run and participate in RFx and reverse auction events. WhyAbe.com remains the only completely free e-sourcing tool in the world, connecting companies across the globe that run thousands of events on a daily basis.
"We are currently in an exciting time where companies see huge opportunities to engage Source One. Source One looks to expand its service offering and help more companies streamline their operations and gain value from their supply base. I look forward to the next 20 years of growth and success!" said Podolak.
~~~
Source One Management Services, LLC is a leading procurement services consultancy, providing procurement transformation, spend management, strategic sourcing and cost reduction services since 1992. Source One helps organizations reduce the costs for the common and not-so-common products and services that they use daily to run their businesses. Source One's services reduce the overall cost of acquisition through the application of proven sourcing and purchasing strategies, best practices, people and technologies.
Learn more about Source One on the web at http://www.SourceOneInc.com
Visit Source One's strategic sourcing blog at http://www.StrategicSourceror.com for up-to-date supply chain industry news.
###