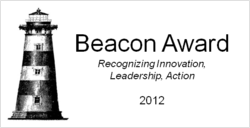 Interestingly, all of our finalists are leveraging advanced technologies in support of our evolving vision for IT – what Saugatuck calls the Boundary-free Enterprise™
Westport, CT (PRWEB) November 09, 2012
Saugatuck Technology, the leading subscription research and business strategy consulting firm focused on the Cloud, today announced the six firms who qualified as finalists for its first annual Beacon Awards, recognizing technology and business innovation. The award winners, who will be chosen from these finalists, will be presented during Saugatuck's 2nd annual Cloud Business Summit, to be held on November 14, 2012 at the Westin Times Square in New York City.
The Beacon Awards recognize excellence and innovation in the use of Cloud, mobile, social and analytics technologies in ways to improve, drive, or create business in four areas of business and IT:

Customer Engagement / Satisfaction
Products / Solutions
Markets / Partnering
Business Models / Realizing Revenue
"The types of innovation that we envisioned for the Awards are significant improvements in how a firm operates, the types of markets or lines of business that it is in, or how a firm has applied different ways of thinking, management, and use of technologies to create new offerings, markets, ways of doing business, or entirely new businesses," according to Saugatuck SVP and head of Research Bruce Guptill.
"We are delighted to announce the winners of this year's Beacon Awards at our upcoming Cloud Business Summit," shared Saugatuck Technology founder and CEO Bill McNee. "Similar to last year, the Summit will again bring together large enterprise CIOs and CTOs in an intimate, executive-level forum to discuss the issues of the day."
"Interestingly, all of our finalists are leveraging advanced technologies in support of our evolving vision for IT – what Saugatuck calls the Boundary-free Enterprise™ – which is a key theme at the conference. In fact, we believe that a new master architecture is emerging that includes Cloud, but also mobile, social / collaborative IT, and advanced analytics technologies – all of which are collectively helping to reshape business computing," added McNee. "A key Summit goal is to provide a powerful networking environment for the conference delegates to learn firsthand from their peers and Saugatuck about how other large companies are applying Cloud and related technologies, platforms and solutions to their advantage, and building winning business strategies."
At next week's conference, four winning firms will be selected from the following six finalists for this year's Beacon Awards (listed in alphabetical order):
Actelion Pharmaceutical, for its innovative data analytics methodology and architecture enabling exceptional cost reductions in program tracking and regulatory compliance.
Brewster Dairy, for innovation and improvements in core business operations and management via its implementation of Cloud-based, continuous flow of data and management information within and between core EAM and ERP systems, eliminating redundancies, speeding workflow, and enabling significant improvements in decision-making, business workflow and profitability.
Citi, for its innovative private Cloud infrastructure that drastically reduces service provisioning times and improves service levels while reducing total cost of ownership.
Harry Rosen, for its mobility-enabled, in-store, BYOD-driven customer relationship, sales and marketing approach that enabled significant and repeated revenue growth through recessionary environments.
NPD Group, for its integration of financial data through Cloud-based solutions, resulting in significant process streamlining, time and cost reductions, and resulting improvements in enterprise Finance planning, budgeting and management.
UBS, for its unique, repeatable and cost-effective approach to mobility and BYOD capabilities in support of sales revenues and customer retention, while maintaining the highest security and privacy levels required and possible.
"We are proud to recognize not only these terrific finalists, but all of the firms that were nominated for our inaugural Beacon Awards. It's a tremendous feeling to see the broad and deep ranges of business and IT innovation being developed and deployed to create and improve enterprises, processes, ways of doing business, and even new business opportunities – it's what our Cloud Business Summit is all about," added Saugatuck founder and CEO Bill McNee.
About Saugatuck Technology
Saugatuck Technology, Inc. provides subscription research and management consulting services focused on the key market trends and disruptive technologies driving change in enterprise IT, including Software-as-a-Service (SaaS), Cloud Infrastructure, Social Computing, Mobility and Advanced Analytics, among others. Founded in 1999, Saugatuck is headquartered in Westport, CT, with offices in Falmouth, MA, Santa Clara, CA and in Wiesbaden, Germany. For more information, please visit http://www.saugatucktechnology.com or call +1.203.454.3900.
To request a briefing with our analysts, contact: chris.macgregor (at) saugatucktechnology (dot) com.
About The Beacon Awards
Saugatuck Technology founded the Beacon Awards in 2012 to recognize outstanding business and IT innovation through the use of such advanced technologies as Cloud, mobility, social / collaborative IT, and advanced analytics. All nominated companies receive a thorough review and assessment by seasoned industry analysts from Saugatuck Technology. The Beacon Awards recognize business and IT leaders for innovation in four areas of business and IT: 1) Customer Engagement / Satisfaction, 2) Products / Solutions, 3) Markets / Partnering, and 4) Business Models / Realizing Revenue. For more information, go to: http://cbs2012.saugatucktechnology.com/innovation-awards.html.
About the 2012 Cloud Business Summit
The Cloud Business Summit, to be held on November 14, 2012 at the Westin Times Square in New York City, is a one-day executive forum that brings together large enterprise CIOs, CTOs and senior business leaders from across a wide range of industries to explore how they can and are realizing value from the Business Cloud. To learn more about the Cloud Business Summit, go to http://www.cloudbusinesssummit.com, or contact Chris MacGregor from Saugatuck Technology at +1.203.454.3900 or via email at chris(dot)macgregor(at)saugatucktechnology(dot)com.