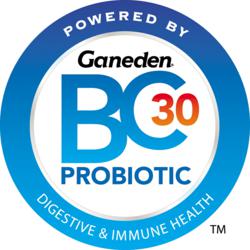 We were looking for a superior tasting, functional instant coffee compared to the typical freeze dried or spray dried soluble products that are available and we feel that we have that now, thanks to Ganeden Biotech and GanedenBC30.
CLEVELAND, OH (PRWEB) November 07, 2012
Ganeden Biotech® and Tipton Mills® announce the world's first probiotic instant coffee. Consumers can now get their daily dose of probiotics in Tipton Mills private label and direct-to-consumer instant coffees and other beverages. Ganeden Biotech's unique, patented probiotic, GanedenBC30®, can survive heat, cold and other conditions that destroy most probiotics, making a warm probiotic beverage possible.
According to the National Coffee Association, Americans drink an average of 3.1 cups of coffee a day per person (the average size of a cup is 9 ounces), while the U.S. spends $40 billion on coffee each year.
"Coffee is one of the two largest selling beverages in the world," said Mike Bush, Vice President of Business Development, Ganeden Biotech. "At Ganeden Biotech, our goal is to improve quality of life through probiotics and it just makes sense to add it to something that consumers are already enjoying on a daily basis."
Launched with tremendous success and excitement at the June Fancy Food Show, Tipton Mills now makes Ganeden's probiotic ingredient, GanedenBC30, available for the entire Tipton Mills beverage product offerings – instant coffees, chai lattes, lattes, cappuccinos, teas in various flavors, and even high protein shakes and smoothies. These products are available as stick packs and vertical or horizontal fill and seal packages.
"GanedenBC30 is the most studied heat-stable probiotic in the world and has excellent shelf life," said Wayne Eschberger, Vice President of Operations at Tipton Mills. "We were looking for a superior tasting, functional instant coffee compared to the typical freeze dried or spray dried soluble products that are available and we feel that we have that now, thanks to Ganeden Biotech and GanedenBC30."
SupplySide West attendees can get a taste of the world's first probiotic coffee! Samples will be made available to show attendees in the Ganeden Biotech booth (#13055) during show hours on Wednesday, November 7th. In addition, Tipton Mills will have samples available during the PLMA's 2012 Private Label Trade Show in Chicago from November 11-13, 2012. All samples are first-come, first-served.
About GanedenBC30
GanedenBC30 (Bacillus coagulans GBI-30 6086) is a patented natural probiotic, or good bacteria, that has been researched and shown to support the immune and digestive systems.
While most strains of probiotics need to be delivered in capsule form or in refrigerated products, Ganeden's probiotic delivery system is different—it's an ingredient, consumed in a variety of foods and beverages such as breads and muffins, nutrition bars, yogurt, protein powder, chocolate, and even oatmeal and hot beverages.
GanedenBC30 is a highly stable probiotic. It has a naturally occurring layer of organic material that protects the genetic core of the bacteria. This protective layer provides the probiotic the ability to survive extreme temperatures involved in food and beverage manufacturing processes, shelf life, stomach acids and intestinal bile. Other probiotics, such as Lactobacillus and Bifidobacterium, are unable to form this protective layer, making them more vulnerable to manufacturing conditions.
###
About Tipton Mills
Tipton Mills technical and operational competency in dry blending and agglomeration allows us to provide you with complete services, from concept to completion. Products are available in canisters, pouches, sticks, food service packages and plastic bottles. Other package options are available upon request. Tipton Mills is OU and Organic certified. Tipton Mills has two full-service facilities to provide you with complete satisfaction and a smooth transition to the marketplace. For more information visit http://www.tiptonmills.com.
About Ganeden Biotech
Founded in 1997, Cleveland, Ohio based Ganeden Biotech is at the forefront of probiotic research and product development. Ganeden has an extensive library of published studies and more than 100 patents for probiotic technologies for the food, beverage, animal health, and topical ingredients markets. The company is best known for GanedenBC30®, its patented, probiotic ingredient, which is found in more than 50 leading food and beverage products. Ganeden helps manufacturers develop and market probiotic products and offers an extensive intellectual property portfolio with patent and trademark protection for an array of technologies all over the world.
For more information about Ganeden Biotech and licensing opportunities, visit ganedenlabs.com.