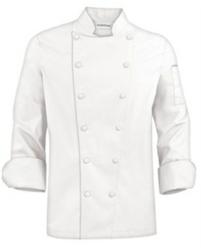 Plantation, FL (PRWEB) November 07, 2012
ChefUniforms.com, a leading national provider of restaurant apparel, chef coats, chef pants and more, is a proud sponsor of the first annual Flavors of Fort Lauderdale. The event will take place in Fort Lauderdale's Las Olas Marina over a four day period beginning November 8th and ending on the 11th, 2012. There will be a variety of events and activities including live cooking demonstrations, food and wine tastings, as well as over 35 different restaurants preparing their signature dishes for guests.
There are almost 50 sponsors and partners of this event, and ChefUniforms.com was asked to contribute in a unique way. ChefUniforms.com will be outfitting the 12 featured chefs with a traditional chef coat of their choice. You can see Chef Robyn Almodovar and the Five Fabulous Female Chefs in their brand new Women's traditional style chef coats, by visiting the Flavors After Dark Event on Saturday, November 10th from 6-10 P.M. On Sunday you can see the "Ambassador of Flavor", the event's Master of Ceremonies, Chef Allen Susser wearing an Egyptian cotton coat from Uncommon Threads.
The Flavors of Fort Lauderdale Event is a celebration of the culinary lifestyle and is open to anyone who has an appreciation for good food and fun. Many local and regional restaurants will be participating, as well as many great chefs from the area. A portion of the event's proceeds will benefit a South Florida Charity called Feeding South Florida. This charity is a not-for-profit organization that helps to provide food and other grocery products to people in need, as well as to educate and engage the community in the fight against hunger and poverty.
For more information about the event and for complete time, location and ticketing information, please visit http://www.flavorsfortlauderdale.com/.
About ChefUniforms.com
ChefUniforms.com is a leading retailer of restaurant and chef uniforms. Founded in 2007, the company operates out of Plantation, Florida and ships from their distribution center near Atlanta, Georgia.
For more information and to view their garments, visit the Chef Uniforms web site at http://www.ChefUniforms.com or call 877-482-2433.