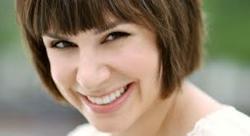 The wheels are always turning to find ways in which the dancers can better themselves. Master Classes are yet another tool used by the studio in a line-up of fine dance instruction techniques.
Newtown, PA (PRWEB) November 09, 2012
Valerie Salgado is the assistant choreographer for the NBC hit series "Smash" produced by Steven Spielberg. She has worked one-on-one with many stars including:

Megan Hilty
Uma Thurman
Katharine McPhee
Debra Messing
Valerie taught and choreographed for Rosie O'Donnell's Broadway Kids and can be found at the Broadway Dance Center as a guest artist.
At 4:45 p.m. on Saturday, November 10th, come to DSDW in Newtown, PA, and get ready to put on your dancing shoes. Enjoy two hours of invigorating dance steps from one of New York's most inspirational choreographers, Valerie Salgado.
When it comes to dance instruction, Ms. Deb, leader of the Debra Sparks Dance Works, clearly raises the barre. Last month, Debra Sparks Dance Works held a Master Class with Russell Ferguson, Season 6 Winner of "So You Think You Can Dance!" WOW! What an exciting evening of contemporary dance and Hip Hop at DSDW.
This event is not only open to Debra Sparks Dance Works' dancers but anyone interested in learning from one of New York's great choreographers. For more information, including price, and to register for the event, please contact the office. Act quickly, space is limited!
In addition to Master Classes, Debra Sparks Dance Works offers year-round dance classes, focusing on classical ballet as the primary foundation of training. Classes offered for students aged 3 to adult include:

Acro
Ballet—Classical
Ballet—Contemporary
Ballet—Pointe
Glee Club
Hip Hop
Jazz
Jazz—Competitive
Jazz—Funk
Jump & Turn
Lyrical
Modern
Musical Theatre
Pilates
Tap
Zumba
For more information about Debra Sparks, the DSDW studio, master classes, Newtown, Bucks County dance classes, or for answers to general questions, please call the studio at (215) 579-5678.
Or visit the company's website at: http://www.debrasparksdanceworks.com
Press release writing by WebSiteText, LLC