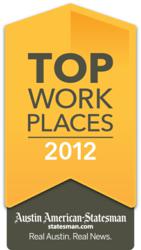 ASI operates around the world and we have been fortunate enough to be voted one of the best workplaces in several of our key locations.
Alexandria, VA (PRWEB) November 14, 2012
Advanced Solutions International (ASI), the largest, privately-owned global provider of software for member and donor-based not-for-profits, today announced it has been selected as one of the Austin American-Statesman Top Workplaces.
Headquartered in Alexandria, VA, with offices worldwide including its "Center for Technical Excellence" in Austin, ASI is very proud to receive this first-time designation as one of the finest places to work in the greater Austin area.
"ASI operates around the world and we have been fortunate enough to be voted one of the best workplaces in several of our key locations," said Bob Alves, ASI Chairman and CEO. "Each month, we celebrate employee anniversaries and the list of those who have been with the company for more than 10 years continues to grow. Ten years is a long time in any company and I believe it demonstrates the staff's commitment to the organization and our core values. As one of the first employees more than 20 years ago, I share our team's enthusiasm for the company's workplace and am working with our senior management to make it even better," he added.
The Top Workplaces determinations are based solely on employee feedback. The survey was conducted by WorkplaceDynamics, LLP, a leading research firm on organizational health and employee engagement. WorkplaceDynamics conducts regional Top Workplaces programs with more than 30 major publishing partners and recognizes a National list of Top Workplaces. Over the past year, more than 4,500 organizations and 1 in every 100 employees in the U.S. have turned to WorkplaceDynamics to better understand what's on the minds of their employees.
For more information about the Top Workplaces lists and WorkplaceDynamics, visit http://www.topworkplaces.com and http://www.workplacedynamics.com.
About ASI
Advanced Solutions International (ASI) is a recognized global, industry thought leader that focuses on helping associations and not-for-profits increase operational and financial performance though the use of best practices, proven solutions, and ongoing client advisement. Since 1991, ASI has served nearly 4,000 clients and millions of users worldwide, both directly and indirectly through a network of over 100 partners, and currently maintains corporate offices in the USA, UK, Canada, and Australia.
ASI is the provider of iMIS not-for-profit software, association software, member software, donor software, and fundraising software. iMIS is the most widely used association software in the world with three times the global market share of the nearest solution and a popular choice of larger charities and not-for-profits.