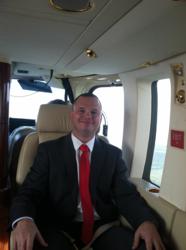 Cleveland, OH (PRWEB) November 08, 2012
Roger Bryan recently had the opportunity to fly on the Trump helicopter with Eric Trump-- an event which has helped to shape his business mindset into something he calls "Think Like Trump", a think-big winner attitude that he has applied to his business ever since. On the flight, the entrepreneurs discussed internet marketing and talked business on their way to the Trump Winery in Virginia. The highlights of this occasion were captured in a video, which can be found on YouTube. In the video, Roger discusses not just Cleveland internet marketing services-- but succeeding as an internet marketer.
"They say that most internet marketers live in their parents' basements," remarked Bryan on the stereotypical portrayal of internet marketing service providers. "I'm here to tell you that there's a lot of us succeeding with corporate SEO and working with multinational brands," Bryan continued. This relevant point made by Roger Bryan, a Cleveland-based entrepreneur, showcases his new "Think Like Trump" mindset.
Although the stereotypes about internet marketing present those in the industry as geeks still living with their parents, the reality is that even The Trump Organization use internet marketing in their branding efforts. The best way to combat negativity associated with internet marketing? Prove them wrong by succeeding with a "Think Like Trump" attitude. For more information, visit the YouTube video which details Roger's exclusive Trump helicopter experience, or contact Roger at http://www.linkedin.com/in/rogercbryan