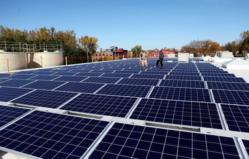 Burlington, VT (PRWEB) November 07, 2012
Dealer.com (http://www.dealer.com), the global leader in digital marketing solutions for the automotive industry, today announced it has completed the installation of a 50 kW roof-mounted solar panel array. The project began on October 8, and features 216 panels that cover approximately 7,000 sq ft of the company's rooftop, the largest privately-owned project of this type in the City of Burlington.
"This is a very exciting and ambitious program that demonstrates our commitment to operating with a lighter footprint," said Mike Lane, COO of Dealer.com. "This solar array system will produce 53,700 kilowatt-hours (kWh) of clean, renewable energy annually. Draker served as a great partner on this project, overseeing the design and install, and helped us implement a solar array system that would produce tangible, impactful results."
During Dealer.com's non-operating hours, the system will actually produce power to offset the consumption on the Burlington Electric power grid. Additionally, the solar array is designed to "net meter" the power generated from the field, thereby lowering Dealer.com's energy consumption and reducing the amount of kilowatt hours consumed during hours of operation.
As a partner on this project, Draker provided a complete monitoring system that will allow Dealer.com to ensure optimal performance of their solar system. Additionally, Draker will use this array to develop and test the next generation of its industry leading monitoring, management and control solutions for commercial and utility-scale PV systems.
In addition to Draker, Dealer.com also partnered with Building Energy Corp. on system integration, and Pratt & Smith Electric on the extensive electrical infrastructure for the project.
About Draker
Since 1999 Draker has led the industry with innovative monitoring, management and control solutions for commercial and utility-scale PV systems. Draker's products and services allow PV developers, owners and operators to predict, measure, monitor, manage, optimize and control their solar assets to increase yield and maximize profitability. Draker's complete panel-to-grid (P2G) solutions include data acquisition and control hardware, Intelligent Array™ software, and a wide range of project and field-based services. For more information please visit our new website at http://www.drakerenergy.com.
About Dealer.com
Dealer.com is a leader in automotive digital marketing solutions - serving automotive retailers, manufacturers and media companies worldwide. The company's innovative, award-winning digital marketing and advertising platform helps significantly lower the cost of customer acquisition, enhancing dealers' efficiency and profitability. The company employs over 600 people in its Burlington, VT, and Manhattan Beach, CA, offices. Dealer.com's commitment to employee health and wellness makes it one of the country's most desirable places to work, and in 2011 was named best overall company in the U.S. at the American Business Awards for companies with under 2,500 employees. For more information, visit http://www.dealer.com.