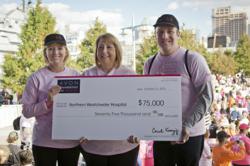 "Northern Westchester Hospital has long been a safety net for the underserved in our community," according to Marla Koroly, MD, Chief Medical Officer, Northern Westchester Hospital.
New York, NY (PRWEB) November 08, 2012
The 10th annual Avon Walk for Breast Cancer season continued with the Avon Walk New York October 20 and 21, which raised more than $8.3 million to advance access to care and research to prevent and ultimately find a cure for breast cancer. The Avon Walk New York, the eighth of nine Avon Walks this year, attracted more than 3,400 participants from 46 states and Washington DC, as well as eight countries, and drew 429 men and 401 breast cancer survivors to raise life-saving funds and awareness for breast cancer.
During the Walk's Closing Ceremony, Avon Foundation for Women President Carol Kurzig announced a total of more than $7.8 million in grants to nine local breast cancer care and research organizations, ensuring the funds raised immediately benefit the community.
Four of the grants awarded at Closing Ceremony will strengthen the Avon Safety Net Hospital program, a network of more than 100 hospitals and community clinics across the country supported by the Avon Foundation to ensure women and men without insurance or resources have access to high quality breast health services. The Safety Net grants included Northern Westchester Hospital's Breast Health Initiative along with Young Survival Coalition, Long Island Medical Foundation/Nassau University Medical Center, and Albert Einstein College of Medicine.
"Northern Westchester Hospital has long been a safety net for the underserved in our community," according to Marla Koroly, MD, Chief Medical Officer, Northern Westchester Hospital. "With generous support from the Avon Foundation since 2006, NWH has worked to eliminate healthcare disparities and increase access to high-quality breast healthcare services for underserved women through our Breast Health Initiative."
The following grants were also awarded at the Avon Walk New York Closing Ceremony. More grants will be awarded through the remainder of the year to breast cancer programs nationwide:

The Avon Foundation Breast Health Outreach Program received $5 million to support more than 100 community-based groups across the country for programs that navigate more than 125,000 people into mammography screening and clinical breast exams annually and reached a half million people with critical breast cancer education and information.
CancerCare received $1 million to continue support for the AvonCares program, which provides financial assistance for transportation and child care to low-income breast cancer patients undergoing treatment, reaching women and men in 85% of all U.S. counties and all 50 states.
The Avon Foundation Breast Cancer Center at New York Presbyterian-Columbia University Medical Center, one of eight Avon Foundation Breast Cancer Centers of Excellence located in leading medical centers across the country, received $750,000 to continue funding care for thousands of underserved women in its state-of-the art mammography center and to support breast cancer research, clinical trials and imaging fellowships. This new grant brings total Avon Foundation support for the Columbia-Presbyterian Avon Breast Center to more than $22 million over the last 12 years.
New York University Cancer Institute received two grants totaling $525,000 to support safety net care at the NYU Cancer Center and Bellevue Collaborative. The second award supports the Avon Inflammatory Breast Cancer Research Consortium, a program at NYU School of Medicine to determine what causes Inflammatory Breast Cancer and why it progresses so aggressively.
God's Love We Deliver received $150,000 to provide nutrition education and meals to breast cancer patients and their families.
About Northern Westchester Hospital
Northern Westchester Hospital (NWH) provides quality, patient-centered care that is close to home through a unique combination of medical expertise, leading-edge technology, and a commitment to humanity. Over 750 highly-skilled physicians, state-of-the-art technology and professional staff of caregivers are all in place to ensure that you and your family receive treatment in a caring, respectful and nurturing environment.
NWH has established extensive internal quality measurements that surpass the standards defined by the Centers for Medicare & Medicaid Services (CMS) and the Hospital Quality Alliance (HQA). Our high quality standards help to ensure that the treatment you receive at NWH is among the best in the nation. For a complete list of our services, please visit http://www.nwhc.net.
About the Avon Walk for Breast Cancer New York
During the Avon Walk New York, which is a noncompetitive event, women and men had a choice of walking a marathon (26.2 miles) or a marathon and a half (39.3 miles) over the weekend. The event kicked off Saturday, October 20, with an early morning Opening Ceremony at Hudson River Park's Pier 84 in New York City. Following the ceremony, walkers began their journey, traveling through scenic New York and concluding at the Avon Walk "Wellness Village" at Randall's Island. The "Wellness Village" featured two-person pink sleeping tents, hot showers, full hot meals, entertainment, volunteer medical services and comprehensive support services, along with leisure activities such as relaxing yoga to stretch out the muscles and a spa zone with mini-back-and-foot-massages. On Sunday, October 21, walkers completed the walk, ending back at Hudson River Park's Pier 84, where thousands of family members and friends greeted them and shared in a celebratory and moving Closing Ceremony, including the awarding of new grants.
To participate in the Avon Walk New York, each walker raised a minimum of $1,800 in donations. The Avon Foundation for Women [a 501(c)(3) public charity] manages the funds raised, which it awards to local, regional and national breast cancer organizations to support five areas of the breast cancer cause, including awareness and education, screening and diagnosis, access to treatment, support services, and scientific research.
Since its launch in 2003, the Avon Walk for Breast Cancer series has raised more than $470 million through the dedication of nearly 180,000 participating women and men from across the country, including thousands of Avon Associates and Representatives. The Avon Walk New York is the eighth event of the 2012 10th birthday season, and registration is still open for the remaining 2012 Avon Walk in Charlotte, NC (Oct. 27-28) and for the 2013 season. For more information on the Avon Walk or to donate, visit http://www.avonwalk.org or call 888-541-WALK. To learn more about the Avon Foundation for Women visit http://www.avonfoundation.org.
###
NWH Contact:
Gretchen Mullin
Associate Director of Marketing & Communications
gmullin(at)nwhc(dot)net
914.666.1266
AVON Walk
Media Contacts:
Gloria Quinn-Doyle
Kaplow
646-747-3582 (office)
917-526-1477 (cell)
gquinndoyle(at)kaplowpr(dot)com
Karyn Margolis
Avon Foundation for Women
212-282-5666 (office)
347-244-5198 (cell)
Karyn(dot)margolis(at)avonfoundation(dot)org