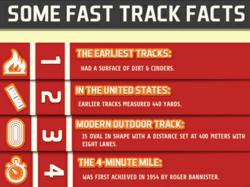 Harmony, PA (PRWEB) November 08, 2012
Advanced Polymer Technology (APT) has recently released an infographic related to one of their core products, athletic track surfaces. The infographic includes fun facts about the history of running as a sport as well as a look at how the sports of track and field have changed over time. For instance, the data shows how in men's and women's events, both have seen similar increases in finishing times over the years. However, women were not permitted to compete in all the same events as men's running sports until the 70s, particularly for long-distance events.
The information provided by APT is intended to allow clients and users to interact with APT products in a new way, in the context of their development over time. As tracks gained popularity, their shape and length began to standardize, facilitating better international (or simply inter-regional) competition. Even the material and design of the standard track itself began to change to enhance performance with a springy surface, more texture for greater traction, banked turns for improved maneuverability, and an environmentally-friendly composition.
APT itself has contributed to the history of track and field, providing the turf and track facilities for many field sports competition venues, including at the 2012 London Olympics. Aside from manufacturing and installing athletic surfaces, APT also sponsors teams for sports charity drives, such as for the upcoming Pittsburgh Marathon.
More than anything, the infographic is aimed at appreciation for running itself by highlighting major accomplishments in the sport. Running has evolved over time from a necessity of survival to a leisurely and recreational activity. Over the millennia, people have been able to achieve amazing feats of athleticism, particularly in recent years as athletes are able to devote their entire schedules to physical training and conditioning. With respect to the long history of the sport and the stellar achievements that result in more broken records every year, APT encourages everyone to hit the track and run.
Advanced Polymer Technology is an international leader in manufacturing polyeurethane-based materials, acrylic coatings, and synthetic flooring materials. Most products are designed either for recreational purposes, such as with tracks and tennis court flooring, or protective purposes, including coatings for concrete flooring. Customers may also work with APT engineers to custom-design products for special circumstances. APT has made strong initiatives to use environmentally-safe materials in its products and has helped facilities achieve reliable and eco-friendly results.