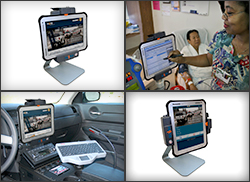 WARMINSTER, Pa. (PRWEB) November 08, 2012
Havis Inc. announced today that the new Toughbook Certified Docking Station for the Panasonic Toughpad™ A1 is now available. Havis, an ISO 9001:2008 certified company, worked closely with Panasonic to develop this custom rugged mounting solution for their new Android-powered tablet.
To improve workflow, the Toughpad Docking Station allows users to charge their tablet and connect to peripherals like printers and keyboards. It provides full range of motion with a tilt-swivel device that easily rotates the Toughpad from portrait to landscape for more ergonomic computing. The docking station also features a barrel lock to ensure tablet security.
Mobile workers are increasingly utilizing tablets to supplement their laptop in the field, giving them the option to select the appropriate device for specific tasks.[1] Regardless of which device they choose, mobile workers require a safe and comfortable mounting solution in their vehicle.
For example, a properly docked laptop or tablet should remain securely locked in place through sharp turns, aggressive driving and even crash situations. Havis docking stations are tested against demanding performance standards to ensure this level of safety in rugged environments.
The Havis Docking Station for the Panasonic Toughpad successfully completed extensive quality testing to meet and exceed Panasonic's Toughbook Certification requirements. Based on years of experience in building rugged docking stations, Havis designed this new dock to withstand in-vehicle crash simulations, MIL-STD 810G vibration testing, environment testing and extreme durability testing.
No matter what the application or environment, Havis manufactures mounting and docking solutions for new technology for the mobile worker. To accompany its latest tablet solutions, Havis recently released the Desktop Stand for Tablet Docking Stations. With this universal desktop stand, mobile workers can more easily transition from the vehicle to the office.
Havis will continue to collaborate with equipment manufacturers like Panasonic to provide custom solutions that maximize productivity in the field. For more information on the Havis Docking Station for the Panasonic Toughpad A1, please visit http://www.havis.com/toughpad.
[1] Based on "The iPass Global Mobile Workforce Report" (May 2012).
FOLLOW HAVIS
Stay up-to-date on the latest products and announcements from Havis through Facebook, Twitter and YouTube.
ABOUT HAVIS
Havis Inc. is a privately held, ISO 9001:2008 certified company that manufactures in-vehicle mobile office solutions for public safety, public works, government agencies and mobile professionals. For over 80 years, the Havis mission has been to increase mobile worker productivity with industry-leading products that are built to the highest safety and quality standards and are designed with comfort in mind. Headquartered in Warminster, Pa., with an additional location in Plymouth, Mich., Havis currently employs 200 people. For more information on Havis, please call 1-800-524-9900 or visit http://www.havis.com.
CONTACT:
Andrea Felice
Havis, Inc. | Marketing
Phone: 215-957-0720 ext. 3198
E-mail: media(at)havis.com
http://www.havis.com
# # #