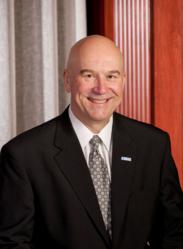 I am proud of the relationship that the Owners Association has with IHG in all regions. It distinguishes IHG from other brands.
Atlanta, GA (PRWEB) November 09, 2012
IHG Owners Association, during the recent IHG Americas Investors & Leadership Conference, announced that Mike Hembree assumed chairmanship of its Board of Directors. Hembree, of Smart Brands LLC, currently owns a Holiday Inn Express in Oklahoma City, Oklahoma, and is constructing a Candlewood Suites in the same location, scheduled to open in 2014.
"Mike brings a distinct perspective to the role of Chairman," noted Eva Ferguson, President of the IHG Owners Association. "He offers a point of view on the day-to-day operating challenges that so many of members share as owners of just one or two hotels; yet, he understands the global nature of our business, of the hotel industry, and its implications for our Association."
Hembree has an extensive history in the hospitality industry. He began working in his parents' restaurant when he could hardly see over the counter, and his first job after college was managing Houlihan's, Annie's Santa Fe and Bristol Bar and Grill locations around the Midwest. He opened his own restaurant in 1985, later adding a second in the location of his parents' original place and operated them until 2002. He ventured into the hotel industry in the late 80s, joining his father and other family members to invest in and operate economy and limited service hotels, beginning a new chapter in his career.
"I am proud of the relationship that the Owners Association has with IHG in all regions," Hembree stated. "It distinguishes IHG from other brands, and it's as strong as it was when Kemmons Wilson founded Holiday Inn and the Association more than 50 years ago."
During his introductory presentation at the conference, Hembree gave a moving depiction of the Oklahoma City bombing in 1995, its effects, and how the response, where people helped without being asked and in overwhelming numbers, was later dubbed the "Oklahoma Standard." He encouraged everyone present to create an "IHG Standard." "Like the Oklahoma Standard, the IHG Standard is a greater level of caring and collaborative effort among hotels, owners, and IHG," Hembree explained. "It is a standard where we all work together to achieve a common goal, where we run towards challenges and not away from them."
IHG Owners Association
The IHG Owners Association represents the interests of owners and operators of more than 3,100 InterContinental Hotels Group (IHG) hotels worldwide in the United States, Europe, the Middle East, Africa, Canada, Mexico and Latin America. The IHG family of brands includes InterContinental® Hotels & Resorts, Crowne Plaza® Hotels and Resorts, Hotel Indigo™, Holiday Inn® Hotels and Resorts, Holiday Inn Express®, Staybridge Suites® and Candlewood Suites®. For additional information, visit http://www.owners.org or contact 770-604-5555.