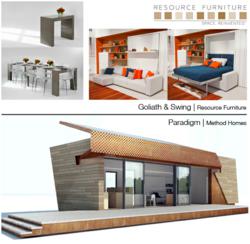 "Minimizing your home's physical footprint is the single most important decision you can make to reduce your carbon footprint." - Ron Barth, President and co-founder of Resource Furniture
New York, NY (PRWEB) November 09, 2012
Resource Furniture announces its collaboration with Seattle-based pre-fab builder Method Homes for the U.S. Green Building Council's 2012 Greenbuild exposition in San Francisco. Method Homes will build Green Zone's 2012 Professional Builder display house, the only residential structure on display at the convention. The home will be furnished with several unique furniture systems from Resource Furniture.
The display home designed by Bogue Trondowski Architects is a prototype for Paradigm, a new series of pre-fab homes built by Method Homes. "Minimizing your home's physical footprint is the single most important decision you can make to reduce your carbon footprint. The systems featured in this home clearly demonstrate that a reduction in square feet doesn't mean sacrificing comfort, function or style." says Ron Barth, President and co-founder of Resource Furniture. "With meticulous planning, state-of-the-art design and cutting-edge products and furnishings, this 722 square foot home feels spacious and luxurious. We are proud to be a part of this Method Home team." As Brian Abramson, co-founder of Method Homes said, "Method is using this home to educate people on how achievable sustainable living is in today's world."
The furniture systems from Resource Furniture include a freestanding, transforming wall bed/sofa system designed and made in Italy by Clei; a coordinating Home Office that folds to less than14" deep when not in use; a 17" console table that expands into a dining table for 12; and an ottoman that converts to five seats.
The Clei products feature a lifetime warranty on all mechanisms, water-based finishes, Class E-1 chipboard composition and are FSC-CoC certified.
The project features super-efficient systems and products including a 200 s.f. greenhouse irrigated by the home's greywater reuse system and a photovoltaic solar array on the roof, which will generate power during the event. The home's energy consumption vs. generation will be tracked during the show. The home will be net zero energy and water, and in addition will target several leading environmental certifications, including LEED Platinum and eligibility for 6 of 7 petals of Living Building Challenge.
Greenbuild is the world's largest convention dedicated to green building, and takes place at the Moscone Center in San Francisco from November 14-16, 2012. Attendees of the 2012 San Francisco Greenbuild conference and the public are invited to explore Method's deeply sustainable Paradigm home in front of the Moscone Center.
Paradigm at Moscone
Where
Moscone Center, Outside the North Entrance
747 Howard Street, San Fransisco, CA 94103
When
Wednesday, November 14, 10:00am – 7:00pm
Thursday, November 15, 9:00am – 6:00pm
Product Details from Resource Furniture
Swing
Designed and made in Italy by Clei, Swing is a vertically opening queen bed attached to a 9' sofa with an adjustable chaise. More than 10 linear feet of shelving is included, and there is additional storage under the sofa seat.
Home Office
Designed and made in Italy by Clei, the Home Office complements Swing and any of the transforming bed systems. Housed in a cabinet that is just 13 3/4 inches deep, the Home office includes: shelving below, a sizeable desk surface (42 1/2" x 40 3/4"), built-in lighting and storage above the desk.
Goliath
The Goliath Console/Dining Table extends from 17" to 115" utilizing a unique aluminum telescoping mechanism. Table includes five extensions and goes from console table to seating for 12.
Cubista
This ottoman provides seating for up to five individuals. Each side of the ottoman can be removed and attached to one of four bases that nest inside the ottoman structure. Each stool has a comfortably padded seat and is the perfect dining and desk height.
About Resource Furniture
Resource Furniture has built a global network of showrooms offering a range of top-selling luxury European furniture. Resource Furniture is dedicated to redefining the use of space and pushing the limits of technology and design. Since 2000, Resource Furniture has imported and distributed inspired, modern furniture from the finest and most innovative European designers. Every piece in the Resource Furniture collection is hand-selected for its ability to transform a space with both beauty and functionality. For more information, visit one of the showrooms in New York, Toronto, Vancouver, Montreal, and Calgary or on the web at http://www.resourcefurniture.com.