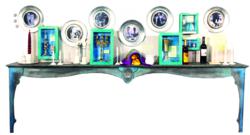 Denver, Colorado (PRWEB) November 09, 2012
Music will provide the sparks for a festive Shabbat dinner in celebration of Chanukkah on Friday, December 14, 4:15pm at the Mizel Museum, 400 S. Kearney Street, Denver. Musician and ethnomusicologist Sheldon Sands will lead an exploration of the rich tapestry of Jewish music around the world. A journey through music will expand your appreciation for the diverse music cultures of world Jewry, along with a delicious vegetarian meal.
Chanukah, also known as the Festival of Lights, is an eight-day Jewish holiday commemorating the rededication of the Holy Temple in Jerusalem at the time of the Maccabean Revolt of the 2nd century BCE. The holiday is observed for eight nights and days, starting on the 25th day of Kislev according to the Hebrew calendar, which may occur from late November to late December. This year Chanukkah is celebrated from December 9 through 16.
The price for Shabbat dinner is $30 for Mizel Museum members; $36 for non-members. To reserve a seat visit http://www.mizelmuseum.org or call (303) 749-5014.
About the Mizel Museum
The Mizel Museum is a portal to the contemporary Jewish experience. Exhibits, events and educational programs offer interactive experiences that promote community, understanding and multiculturalism. The Museum is located at 400 S. Kearney Street, Denver, where visitors can tour the new permanent exhibit, 4,000 Year Road Trip: Gathering Sparks, a dynamic journey through art, artifacts and digital media that narrates and illuminates Jewish history and culture. For more information visit http://www.mizelmuseum.org or call 303-394-9993.