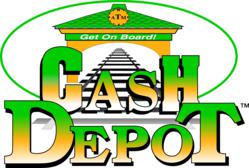 Get On Board!
Green Bay, WI (PRWEB) November 09, 2012
If any convenience store chain was a reflection of its owner, it would be Kwik Trip, Inc. From no-charge ATMs to its generous employee profit-sharing program, Don Zietlow has built a $3.6-billion business on selling life's simple necessities at a surprising value.
Cash Depot operates over 600 ATMs within the 420 stores across the midwest and is proud to be partnered with the Kwik Trip convenience store chain.
Cash Depot is committed to providing a customer concentric. The biggest point of differentiation is a unique culture, one that fosters meaningful long-term relationships with customers, loyal associates and a strong connection with partners.
GOAL: Cash Depot will commit to treat everyone like family and strives to be the recognized leader in all business ventures. Cash Depot will commit to treat everyone like family.
MISSION:

To provide the best possible sales and customer experience in the world.
Be happy and let it show to customers and other family members.
Create security and opportunity in a diverse work environment, which promotes trust and mutual respect among family.
Do everything better, safer, faster and at a lower cost than anyone.
To maintain constant profitability as a means to future growth and success.
Cash Depot - The One Stop ATM Provider
1740 Cofrin Drive Suite 2
Green Bay,WI 54302
1-920-432-5777
1-800-776-8834
http://www.cashdepotatm.com