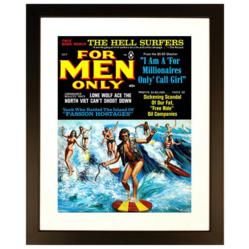 "The men's adventure magazines from the late 1950s and 1960s were among the most popular magazines of their time," says Heritage Art Galleries illustration art specialist Ed Jaster. "Mort Künstler was among the greatest illustrators of that period."
Bend, Oregon (PRWEB) November 08, 2012
For the last decades, the original art for these covers has been stored and forgotten in the expansive attic above Kunstler's home and studio in Oyster Cove, Long Island. Shelf after shelf, filled with stack after stack of his illustrations are currently being archived and preserved. And now The King's incomparable action art is finally available to the public as posters, art prints, wall clings and canvas gallery wraps… ready to authenticate the walls of Man Caves wherever they may be.
There have always been a few esoteric followers of Kunstler's Men's Adventure career, but Kunstler himself –who moved on to illustrate prestigious weeklies, movie posters, advertisements, and on to fine art- until recently had no interest in reviving the uniquely American genre.
"Who cares about those things?" Kunstler replies when asked about that body of work. "I'm almost embarrassed by them." Yet, the technical ability and craftsmanship he so skillfully blends to bring dramatic intensity to his work is nowhere more apparent than in his hundreds and hundreds of fantasy adventure illustrations.
The amazing scope of Kunstler's art over his long career is breathtaking. His work has been compared to artists ranging from Thomas Moran and Winslow Homer to other famous illustrators like Norman Rockwell and J.C. Leyendecker. He has an exhibit of his work at the Rockwell Museum scheduled for 2014 and has been the subject of more than 20 books and two documentaries. He currently has a large body of his widely acclaimed Civil War Art touring museums and was recently honored at the National Archives in Washington, DC.
Replications of Kunstler art covering his many subjects, including Men's Adventures, as well as Western, Civil War, Americana, Military, and American history, are now on-line at http://www.shopkunstler.com from licensee U.S. Allegiance. U.S. Allegiance has been a primary producer and supplier of souvenirs and collectibles for the U.S. Military in base exchanges throughout the world for over 30 years. The company also produces Kunstler licensed products for Civil War National Park gift stores from Gettysburg to Vicksburg and Museums from the Museum of the Confederacy to the South Carolina State Museum.
For further information contact:
Steve Crawford (scrawford(at)ipledge(dot)com)
541 330 6282